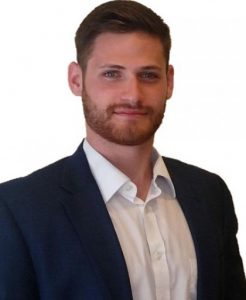 David Narrow, MSE '13, the CEO of Sonavex, a company aimed at improving outcomes for surgical patients by providing clinicians cutting-edge visualization through imaging technology, has been named one of Forbes' 30 Under 30 notable health care industry entrepreneurs.
Forbes recognized Narrow, 25, for his company's EchoSure technology, which was developed at Johns Hopkins and earned Narrow's team a win at the 2013 Biomedical Engineering Innovations, Design, and Entrepreneurship Awards competition.
EchoSure ultrasound implant technology helps nurses locate blood clots before they cause problems. Forbes also noted Narrow's work with MonoMano Cycling, which makes adaptive bikes for stroke survivors and others with similar physical limitations.
Narrow is a graduate of the David E. Swirnow Master's Program in Bioengineering Innovation and Design at Johns Hopkins' Center for Bioengineering Innovation and Design, which focuses on preparing leaders in the design and development of health care solutions. Sonavex is based in northern Baltimore and is part of FastForward at Johns Hopkins Technology Ventures, a business accelerator program supporting startup companies.