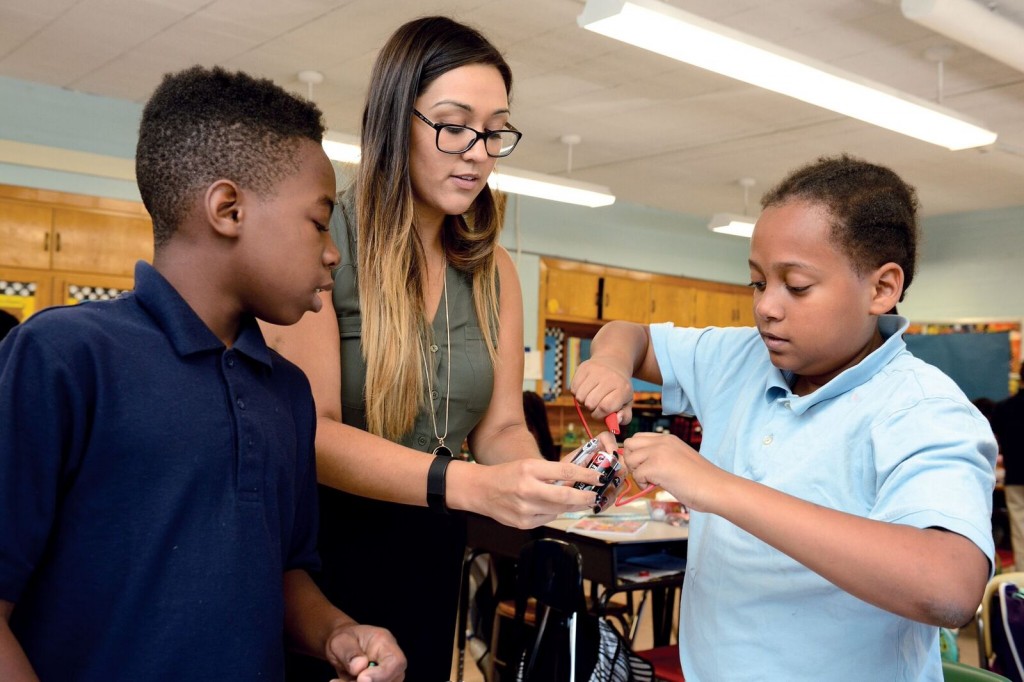 An innovative partnership is transforming one Homewood area public school into a flagship that provides engineering-focused education from pre-K through eighth grade.
The 10-year, multimillion-dollar partnership including Barclay Elementary/Middle School, the Whiting School of Engineering, Baltimore City Public Schools, Strong City Baltimore, the Abell Foundation, and an anonymous donor aims to prepare students for 21st-century careers. The effort is closely aligned with HopkinsLocal, the university's recently expanded commitment to Baltimore.
"Our goal is to provide [Barclay School] students with a foundation in critical thinking, problem-solving skills, and collaboration," says the Whiting School of Engineering's Benjamin T. Rome Dean, Ed Schlesinger.
The centerpiece of the effort is Barclay's spacious, state-of-the-art engineering and science lab, which opened in November. It includes 122 powerful new laptops and printers, a 3-D printer, smartboards, and other resources.
"Children who had never even heard of engineering before now want to be chemical and mechanical engineers, and attend Johns Hopkins and Cal Berkeley. It really is amazing," says Melissa Garcia, '13 (SOE), who heads the science department at Barclay.
On a recent weekday morning, two of her sixth graders, Alice Chen and Shakayla Thomas, were on a mission, their hands tangled in wire and batteries. "We're building a circuit to light this up," explained Chen, brandishing a small light bulb. "Then we have to figure out how to make a parallel circuit and one with a switch. I love engineering!"
The 11-year-old's comment brought a smile to Garcia. "This partnership means that students graduating from Barclay will have up to 10 years of engineering education—far more than most students graduating from high schools," she says.