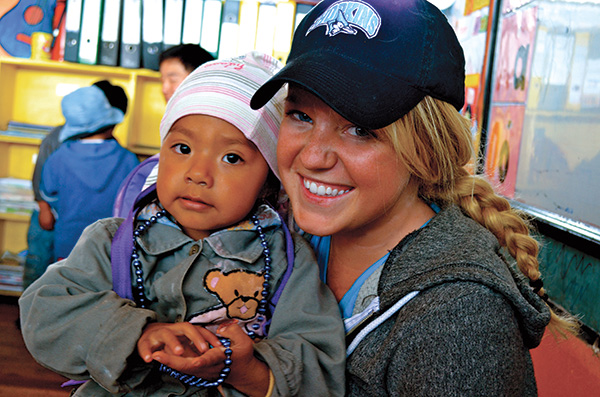 A tree grows on the outside wall of a day care center in Santa Rosa de Ayora, a tiny community nestled in the mountains about two hours outside Ecuador's capital city of Quito. But unlike an ordinary tree, this hand-painted sapling sprouted from seeds of hopes and dreams, and its branches are topped with "leaves" made of children's handprints.
Welcome to the Santa Rosa de Ayora Children's Center, a 2,000-square-foot whitewashed structure that didn't exist two years ago but now rings with the laughter of 35 babies and children. The tree was painted by childcare workers, children, and members of Hopkins' chapter of Engineers Without Borders (EWB) in the fall of 2012, when the facility opened.
"I feel good about having played even a small role in making that day care center happen," says Daniela Martinez '09, MS '11, a member of Hopkins' EWB chapter who spearheaded the project from its conception in 2006 to reality six years later. "It took hundreds of people—literally—to do this, so I get really uncomfortable when people say, 'Oh, that was Daniela's project.'"
While that statement may embarrass Martinez, it's nonetheless true, says Michael Karweit '64, MS '68, a research professor in the Department of Chemical and Biomolecular Engineering and chapter advisor.
"EWB projects are challenging because of the length of time over which they are executed. In Ecuador's case, that took about six years, and that meant many people came in and out of the project both here and in Ecuador. How can any project survive that kind of turnover? The answer is trust and communication, and that's what Daniela provided. She was trusted and liked by all the partners—from our professional partners and other students, to the people of the community— through the entire project," Karweit says.
Martinez, now an engineer at Environmental Resources Management (ERM), a Washington, D.C.–based consulting firm, was born and grew up in Quito (she moved to Baltimore in 2004 with her mother, father, and two sisters—both of whom are also Hopkins graduates), so she could communicate easily with the Ecuadorean people and she understood their culture.
Martinez was at a meeting of the JHU EWB chapter when another student expressed interest in "doing something" in Ecuador. One pressing need in Santa Rosa de Ayora stood out: Parents toiling on a nearby flower plantation needed a safe place to leave their children while they worked. The tiny mud brick house they had been using was "pretty much falling down and quite overcrowded," Martinez learned.
In January 2007, Martinez and a small JHU contingent set off to meet with community leaders to discuss how they might work together to design and construct a children's center there. Back in Baltimore, the EWB team began work on the variety of reports and plans demanded by the EWB national headquarters, which closely supervises and regulates every chapter's activities. Martinez and a large group of students (she estimates that more than 150 students, assisted by professional engineers working pro bono, were involved from beginning to end) spent hundreds of hours drawing up plans for the project. They partnered with a civil engineering professor and students from the Pontificia Universidad Catolica del Ecuador (PUCE).
"We had to manage everything from surveying the site, to making sure the structure was earthquake-safe, to ensuring the country's and area's building codes and regulations were abided by, to arranging for the actual construction," Martinez says. (Construction was done by two professional masons, a field engineer, community members, professional partners, and students from JHU and PUCE.)
And there was the issue of money. The students got to work writing grants, and with the help of the Whiting School, outside donors, and Ecuadorean counterparts such as the town of Cayambe, they managed to raise the needed funds.
By the time construction began, in December 2011, Martinez had been hired by ERM, and couldn't travel with other team members to take part in construction. But she monitored the project from afar, and rejoiced when the Children's Center finally opened its doors to children in November 2012.
"The best part of it was all the people here at Hopkins and there in Ecuador working together to make something positive happen," she says.