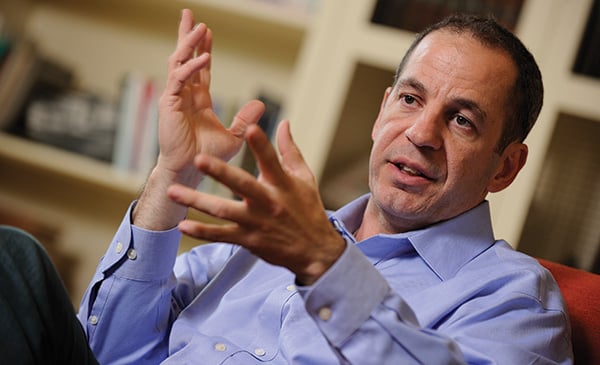 In the quarter century since Ari Balogh '86, MS '89, left Johns Hopkins University with a master's degree in electrical and computer engineering, the world of data has changed dramatically.
"If I get a text saying we only have 5 petabytes of free space left, I start getting a little nervous." Ari Balogh
Today companies such as his employer, Google Inc., can process enough data from 235 million users each day to fill as many as 400 million four-drawer filing cabinets. "We are talking a totally different scale," says Balogh, who delivered the keynote address at the 47th Annual Conference on Information Sciences and Systems, hosted by the Department of Electrical and Computer Engineering, in March.
In his role as Google's vice president of storage and network infrastructure, Balogh sits at the epicenter of data storage, networking applications, and cloud engineering at one of the world's leading information companies.
In previous jobs as executive vice president and chief technology officer at VeriSign Inc. and Yahoo, the technology executive worried about network security and cyber attacks. Now it's petabytes—one petabyte stores up to 20 million four-drawer filing cabinets' worth of text— that keep him up at night. "If I get a text saying we only have 5 petabytes of free space left," Balogh says, "I start getting a little nervous."
The ability to capture, store, and make sense of all this data will drive the future of industries such as big pharma, biophysics, and genomics, he says. It's not inconceivable that researchers could generate as much as 50 terabytes of data per experiment, enough to fill 1,000 Encyclopedia Britannica books.
The key is having the storage capacity, algorithms, and automated detection software to retrieve relevant information. That takes a hefty dose of machine learning and artificial intelligence. "But that's what we like at Google," he says. "If it's so big we don't know how to get it done, we're going to figure it out."
The Google mindset requires a different business model, too, he says. At Google, researchers work side by side with developers to keep technology cutting edge. Because of that need to constantly push the digital envelope, Google attracts PhDs and other academics.
But what does it take to succeed? "You have to love what you do," says Balogh, who clearly feels that way about his life. Balogh and his wife, fellow Hopkins Engineering alum Rina Sera '90, both have busy careers, and together they are raising their four children in Sunnyvale, Calif.
Balogh's passion for coding began at Hopkins when he switched his pre-med major (he had a 3.9 GPA, was a teaching assistant, and was solidly "on the path") for electrical and computer engineering. Under ECE's former chair Gerard Meyer, he hit his academic stride. His Hopkins experience, he says, taught him how to think.
"Professor Meyer was one of those professors who teaches you to think differently," he says. "I don't know if it's the mantra, but that's what I got out of my time at Hopkins."