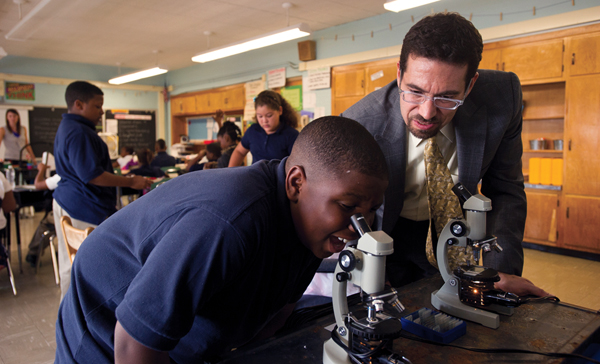 A few blocks from Homewood campus, at Barclay Elementary School, fourth grade students pour jars of water down a trough and watch it carry away sediment as part of their study of erosion and landforms such as the Grand Canyon. None of the students has had the opportunity to travel west to see how the mighty Colorado River carved a majestic canyon a mile deep. Instead, they draw on observations from their own Baltimore City environment. "I've seen water carry dirt like this down my street," says one child. "Yes, the water carries a few rocks, but it leaves the bigger ones behind," adds another.
This hands-on approach to learning STEM (Science, Technology, Engineering, Mathematics) subjects is at the heart of a pilot program launched by three Johns Hopkins divisions in Baltimore City public schools. The STEM Achievement in Baltimore City Elementary Schools—SABES, for short—aims to develop a model that can be exported to other communities nationwide to foster STEM education among students of various ethnicities, language proficiencies, and income levels.
Under a $7.4 million National Science Foundation grant, the Whiting School of Engineering, the Krieger School of Arts and Sciences, and the School of Education will work over the next five years with community groups, nonprofits, and the city schools on the program.
The program will directly benefit 1,600 students in grades 3 through 5 in nine city elementary schools, in the Greater Homewood, Lower Park Heights, and Highlandtown/ Greektown communities. It will also encompass high-quality professional development for teachers, curricular enhancements, and training to enable after-school program providers to promote STEM learning.
In a press conference at Arlington Elementary School, Senator Barbara Mikulski underscored the importance of the investment. "Students with STEM backgrounds are in demand, so they can fill the jobs of tomorrow. Every student deserves a chance. This funding will help show Baltimore City students that STEM isn't just fun— it's the key to a good job and a promising future," Mikulski said.
Engaged early, "[students] can prepare themselves to meet the need and fully participate in the modern workforce," says Michael Falk '90 (A&S), MS '91, an associate professor of materials science and engineering at the Whiting School and principal investigator on the award, administered through WSE's Center for Education Outreach. In addition to Hopkins faculty, a steady stream of graduate students and undergrads will be involved in the program.