On the eve of the Johns Hopkins University 2012 Commencement in May, the Whiting School of Engineering ushered in a new era of research with the official groundbreaking for the new Malone Hall. The 69,000-square-foot building, located on the Decker Quad, will house at least three collaborative research institutes and the Department of Computer Science.
John C. Malone, MSE '64, PhD '69, who in 2010 made a $30 million gift to fund the building, returned to Homewood for the groundbreaking ceremonies and to name the inaugural John C. Malone Professor. It was Malone's first time on campus since he defended his doctoral thesis four decades ago. He received an honorary Doctor of Humane Letters degree the following day.
"I am honored that I am in a position to give back," said Malone, a forward-thinking cable industry executive and chairman of Liberty Media Corp., who has helped reshape the nation's electronic retailing, media, communications, and entertainment landscape.
At the celebration, the Whiting School installed Russell H. Taylor '70 as the inaugural Malone Professor. Taylor is known as a visionary in the field of surgical robotics. As director of the Engineering Research Center for Computer-Integrated Surgical Systems and Technology, he has pioneered the cross-disciplinary research that Malone sees as critical.
Early in the day, Malone visited the Richard A. Swirnow Computer-Integrated Surgical and Interventional Systems Mock Operating Room in Hackerman Hall, where Taylor briefed him on the latest work to harness the power of robots to improve surgical techniques.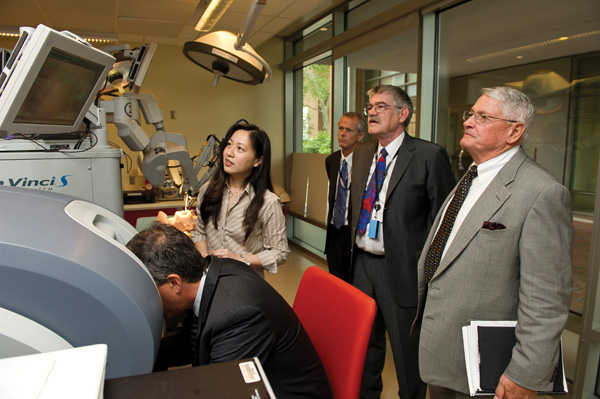 The meeting was a reunion of sorts for the men, who both studied at Johns Hopkins in the late 1960s under Mandell Bellmore, PhD '65. Malone was a PhD candidate in operations research, and Taylor was an undergraduate in engineering science. Bellmore, faculty advisor to both men, said that the two possessed such mathematical genius that he made the wise decision to step aside. "With Russ and John, the best thing I could do was get out of the way," Bellmore quipped.
Malone said that the Whiting School is headed in the right direction with its focus on cross-disciplinary, collaborative inquiry. "At its core, this is about helping humanity," Malone said. "This is about using knowledge to solve human dilemmas."