Today's health experts recommend that Americans drink eight 8-ounce glasses of water a day. One hundred years ago, this advice bordered on Russian roulette. At the turn of the 20th century, cholera, typhoid fever, and other waterborne diseases killed thousands of U.S. residents annually.
Municipalities, beginning in 1908 with Chicago and Jersey City, would eventually turn to chlorine to treat public water supplies, but there was uncertainty as to the amount of the toxic chemical to add and no regulation of standards. It took a graduate of the School of Engineering, Abel Wolman, to perfect and champion the chlorination process and bring safe drinking water to millions. Wolman would also usher in the great tradition of water research at Johns Hopkins that continues to this day.
Born and raised in Baltimore, Wolman earned his pre-med degree at Johns Hopkins and in 1915 became one of the university's first three engineering graduates. While at Johns Hopkins, he met chemist and kindred spirit Linn Enslow.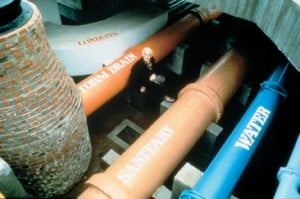 In 1919, while working for the Maryland Health Department, Wolman and Enslow devised a method of standardizing the use of chlorine to purify water, establishing the precise dose to make water safe for consumption and kill harmful bacteria.
John Boland, a professor emeritus in the Department of Geography and Environmental Engineering (DoGEE) and an expert on public water supply, says that the discovery left an immediate and lasting impact. "Untreated drinking water was a huge source of deaths in the United States, and it dropped to nearly nothing after the methods of Abel Wolman were introduced," says Boland, an engineer and an economist specializing in water and energy resources. "He then carried the message around the world. Before Wolman, nobody knew how to manage chlorine, a toxin that people were afraid of."
Wolman would later set bacterial standards for drinking water and advise 50 foreign countries on how to establish safe water supplies.
In 1937, Wolman rejoined Johns Hopkins to help found and chair the new Department of Sanitary Engineering, the precursor to the Department of Geography and Environmental Engineering. He notably hired John C. Geyer, an environmental engineer from the University of North Carolina, Chapel Hill, who went on to a legendary career at Johns Hopkins.
Geyer's research ran the gamut from wastewater engineering and river and estuary studies, to statistical hydrology and nuclear reactor safety. He led pioneering studies of residential water use, small sewer design, urban storm-water management, radioactive waste disposal, and thermal discharges from power plants. Perhaps his most acclaimed work came with the 1954 publication of Water Supply and Waste-Water Disposal, the landmark text he co-authored with Gordon Fair of Harvard.
In 1957, Geyer succeeded Abel Wolman as chairman of the Department of Sanitary Engineering and Water Resources and a decade later led the formation of DoGEE with the assistance of Wolman's son, M. Gordon "Reds" Wolman, who joined Johns Hopkins in 1958 to chair the Department of Geography.
With Geyer and Reds Wolman leading the way, groundbreaking water-related research at Johns Hopkins surged in the late 1950s and 1960s.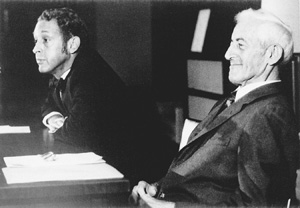 A hydrologist by training, Reds Wolman would become an internationally respected expert in river science, water resources management, and environmental education. His research formed the backbone of several Maryland water protection laws. In 1964, he co-wrote Fluvial Processes in Geomorphology, a seminal work that furthered understanding of how rivers form and human activities change the landscape over time.
From 1960 to 1965, engineering faculty member F. Pierce Linaweaver headed a major study on residential water use.
"[Linaweaver's] study changed the water habits of many and was the basis for a lot of the work that followed for water conservation. Echoes of that are still going on," Boland says.
Water-related research would tail off in the late 1960s and 1970s with the dissolution of the School of Engineering but came roaring back in the 1980s with a new generation of faculty who focused on watershed fate and transport, learning where water goes and what happens to it.
"This is where we are strong now," says Edward Bouwer, the Abel Wolman Professor of Environmental Engineering and chair of the Department of Geography and Environmental Engineering who joined Hopkins in 1985. "We look at, for example, how pollutants come through the watershed after flooding. We want to learn how pollutants get into the rivers so that we can help prevent it."
DoGEE faculty also focus on remediation, such as using bacteria to remove toxicants from rivers, bays, and groundwater.
Charlie O'Melia, who joined Hopkins in 1980, made major contributions to the understanding of particle fate and transport in natural aquatic environments. His work continues to influence the design and operation of today's water and wastewater treatment facilities.
Under the guidance of Grace Brush, Johns Hopkins would make a tremendous impact on waterways in its own backyard, namely the Chesapeake Bay. Brush pioneered studies that used the presence of plant pollen, microscopic organisms, and other substances in bay sediments to track changes in the estuary and in the watershed that surrounds it. Her work furthered understanding of how and when the forests surrounding the bay were first cleared, and how resultant shifts in sediment loads and water chemistry changed the bay and its ecosystem.
In recent years, the Whiting School and the Bloomberg School of Public Health have built notable partnerships focused on water research.
A Global Water Program was founded in summer 2009 to leverage Johns Hopkins' expertise in multiple disciplines to help solve the global water challenge through innovation, education, and collaboration.
The program's faculty and scientists seek to discover solutions to domestic and international water challenges that are safe, scalable, and sustainable.
Bouwer says that such interdisciplinary research has been, and will continue to be, the hallmark of Johns Hopkins' innovation in water-related studies. "There's always been a great spirit of collaboration here between those on the public health, engineering, and environmental sides," he says. "It's how we have leveraged success through the decades."