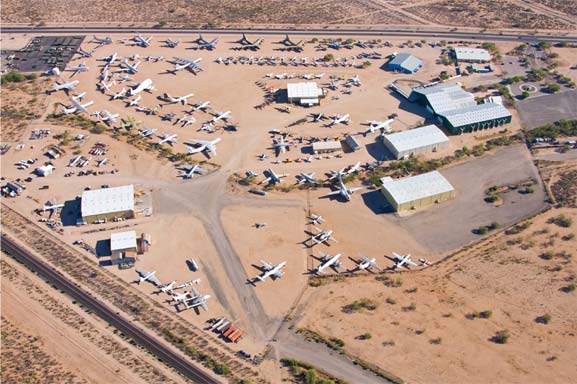 In early June, at the stunning Pima Air and Space Museum in Tucson, Arizona, 22 engineers from Raytheon Missile Systems put their own careers on a flight path to success as the first graduating class of an innovative program with the Whiting School.
The employees earned master's degrees in systems engineering from the Whiting School but attended classes at their Tucson location. Currently, there are 200 Raytheon employees enrolled in the program. The graduation marked a milestone for the JHU-Raytheon partnership, launched in 2009. The program is novel because 
it allows Engineering for Professionals (EP) faculty to 
design a graduate-level curriculum tailored to serve the needs of the defense contractor.
The approach provides academic rigor, while giving faculty the flexibility to integrate real-world Raytheon projects as case studies. The first five core courses of the master's curriculum are standard across the company; the remaining five courses are chosen specifically to meet the unique systems engineering education needs of each Raytheon business unit.
"Systems engineering is a mindset. It provides a different way of thinking about your job," said Raytheon's RMS chief engineer Ronald D. Carsten, at a celebratory dinner for the graduates.
The classes, conducted after work hours, incorporate video teleconferencing, Web tools, and face-to-face classroom sessions. They also leverage the expertise of the Hopkins Applied Physics Laboratory-a leading center for engineering research and development for the federal government-and are team taught by practicing Hopkins systems engineering instructors and Raytheon subject matter experts.
"The partnership provides a common organizational framework," says Dexter Smith, associate dean for EP. "But some courses are specific to the mission of each business unit."
Raytheon Co., headquartered in Marlborough, Massachusetts, employs 72,000 people worldwide and works across sectors including integrated defense, intelligence, missile systems, and space. Raytheon Missile Systems, one of six Raytheon business units, employs 12,500 people and reports sales of $5.7 billion. Systems engineering is critical to Raytheon's business because it focuses on how complex projects should be designed and managed over their life cycles.
"This program is a great way to address our need for systems engineering," says Mark E. Russell, Raytheon's vice president for engineering, technology, and mission assurance.
The partnership program currently includes cohorts from three Raytheon business units- Space and Airborne Systems, Technical Services, and Missile Systems-and reaches across three states: Arizona, California, and Indiana. In 2012, a cohort from Texas that will include the Network Centric Systems business unit will be added.
The JHU Systems Engineering Master's Program is offered in traditional classroom settings throughout Maryland as well as fully online for distance students across the country. Coupled with offerings to other partner companies, the program has nearly 900 active students, the largest in the nation in systems engineering.