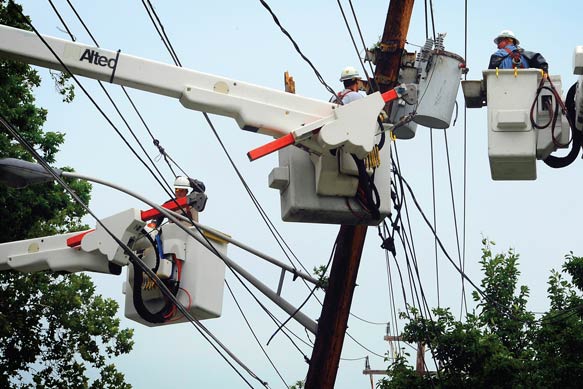 Nearly a week before Hurricane Irene slapped the East Coast in September, leaving as many as 5.5 million people without electricity, Seth Guikema was stockpiling food, water, batteries-and cranking up his laptop to predict how many people would be left without power.
Guikema, an assistant 
professor in the Department of Geography and Environmental Engineering, has been working for several years on a computer model that predicts power outages in advance of hurricanes. His collaborators include Johns Hopkins doctoral candidate Roshanak Nateghi and Steven Quiring, a geography professor from Texas A&M University.
Irene, the first hurricane to make landfall in the United States since 2008, 
presented a perfect test storm. The model builds on earlier work with a Gulf Coast utility, in which the team developed a statistical model that lets them predict on a grid of 12,000-foot-by-8,000-foot cells which areas likely will lose power.
The Gulf Coast model looks at wind speed and duration, and then uses proprietary data about how many electrical poles, electrical lines, and transformers are in each grid cell. It uses records of soil moisture and pre-storm drought conditions as proxies for where trees might topple. "For the Gulf Coast, we are able to predict with good accuracy the fraction of customers that will be out of power," Guikema says. With Irene fast approaching, could the team-now including undergrad Lucas Henneman-
predict power outages in Maryland, and along the East Coast, using publicly available data such as wind speed, wind duration, and population? The answer: evidently, yes.
Based on the best post-storm track and intensity estimates from the National Oceanic and Atmospheric Administration, for example, the model reported 30 percent peak electrical outages in Maryland, compared to 36 percent officially reported by Baltimore Gas and Electric (BGE). The model also was able to predict the hardest hit areas using census tract data. Overall, the best accuracy was obtained for Connecticut, Maryland, Massachusetts, and New Hampshire-all crippled by large power outages.
In the days leading up to Irene, utility companies scrambled to organize response crews and borrow equipment from as far away as Texas. In the end, BGE spent $81 million restoring electricity to customers. Computer modeling has the potential to save utilities substantial amounts of money by facilitating rapid response and helping them best deploy resources.
For Guikema, the Irene data also gave him a jump on preparing for the storm. "For a while," he says, "I was downloading the wind data from Texas A&M on my 
battery-operated laptop, running 
it through our model, and then transmitting it to the team via 3-G on my cell phone."