In their blog from Ethiopia, Smith and fellow student Luccie Wo met a 23-year-old woman in the town of Arba Minch who was emblematic of another challenge facing African women.
At 22, this patient had labored for four days with her first baby—a classic case of obstructed labor. Finally her family provided the necessary money to travel, likely by donkey cart and bus, to a regional hospital.
By that time, the patient's baby had died in utero. The young woman had sustained so much internal damage from the obstructed labor that fistulas, or tears, had occurred internally, rendering her unable to control her bowels. She returned to her family but was unable to heal completely. By that time, her husband had abandoned her, and her community ostracized her.
"But the saddest part of the story," says Wo, "is that it's not uncommon."
Three CBID master's students from the Class of '11—Sean Monagle, Shoval Dekel, and Peter Li—and one BME graduate, Sunny Chen, now on one-year fellowships with Jhpiego, traveled with the 2012 class to Nepal and Tanzania to field-test products they worked on last year. Their simple, cost-effective devices have attracted interest from nonprofit groups, foundations, and corporations for having the potential to save lives.
Monagle is spearheading the partnership's efforts to market a low-cost antenatal kit to screen women for complications that develop during pregnancy. He began working on the project with a team of biomedical engineering undergrads. The idea has taken off in the last year, landing him on CNN Newsroom and in Time magazine, and garnering a $100,000 grant for the project from the United States Agency for International Development (USAID).
Simply, his team innovated on the idea of a urine dipstick to test for dangerous maternal health conditions such as preeclampsia and diabetes. They created a set of pens, like Magic Markers, that can be used on special paper and contain reagents to test for elevated protein levels in urine.
In August, Monagle field-tested the device in two rural health facilities in Nepal with Jhpiego. Local nurses prepared the test by marking filter paper strips with the reagent pen. The team interviewed 600 consenting women who had used the strips to test their own urine for high protein levels. "From the initial reactions, they loved it," Monagle says.
Project sponsor Jhpiego hopes to keep production costs to as little as a half-cent per test, compared to as much as 50 cents for standard dipstick tests. "Our ultimate goal has always been to get these to community health workers, who can take them house to house to women who aren't receiving any prenatal care," Monagle says.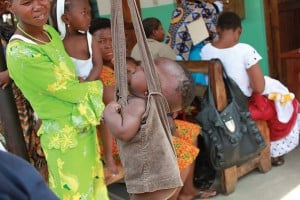 In Tanzania, Dekel and Li were testing the E-Partogram, which they hope will provide the early warning signs of possible complications during labor. Traditionally, health care workers use a paper partogram to chart labor by plotting variables such as heart rate, cervix dilation, and contractions. Widely used in developing nations after being backed by the World Health Organization, the partogram requires more than a basic level of medical knowledge.
"I read graphs all the time, and it's complicated for me," says Dekel. Imagine being a semi-skilled provider doing this in the middle of an isolated rural area while monitoring a difficult labor, she says.
Dekel is working with Jhpiego's medical director, Sanghvi, an international expert on obstetrics and gynecology, to develop an easy-to-use electronic partogram.
She envisions a handheld device that receives data about maternal heart rate and fetal well-being. The device then charts the progression of labor. If a woman shows signs of complications, the device signals alerts. If complications occur, it signals an alarm to seek a higher level of care.
The challenge is keeping the E-Partogram affordable. Right now Jhpiego is trying to develop a prototype for a target cost of $50.
In July, Jhpiego was awarded a $250,000 "Saving Lives at Birth" grant, sponsored by USAID, the Bill & Melinda Gates Foundation, the World Bank, and others, which enables Dekel and Li to refine the design and continue field-testing.
Back in Baltimore, the Class of 2012 CBID students spent much of the fall sifting through ideas from their trip abroad as well as their summer rounds at Hopkins Hospital. They will devote this year to working on proprietary prototypes that they hope will be well received by the marketplace and nongovernmental agencies.
Since the launch of the biomedical design program at Hopkins nearly a decade ago, undergrads and master's-level students have participated in roughly 50 medical device projects for external clients, filed for more than 25 provisional patents, and applied for 12 full patents.
Students alone have gone on to form six startup companies, and the 2011 class earned over $160,000 in prize money and in-kind donations to aid startup ventures. That came on the heels of a CBID group winning the 2010 Wharton Business Plan Competition, which earned them $20,000 and an invitation to ring the NASDAQ Closing Bell. In addition, CBID's global health projects have attracted nonprofit money from organizations such as USAID.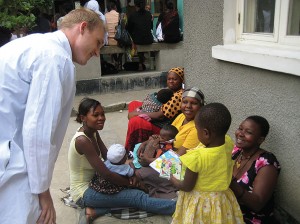 CBID Executive Director Youseph Yazdi has the job of overseeing the program, which runs at a dizzying pace. He teaches and
mentors students. And he spends time raising money to expand the program and get innovations such as the antenatal testing kit and E-Partogram off the ground.
Yazdi joined Hopkins from Johnson & Johnson (J&J), where he was the corporate director in the Office of Science & Technology. He was drawn to CBID, he says, because Hopkins has "all the essential ingredients to be a world leader in medical innovation."
He wasted no time. So far, he has raised $350,000 from J&J; Becton, Dickinson & Co.; GlaxoSmithKline; and others for a Technology Accelerator Fund that provides funding for CBID projects before and after students graduate.
In addition, Elliot McVeigh, chairman of the Department of Biomedical Engineering, recently tapped Yazdi to oversee a new Coulter Foundation Translational Partnership Program that will provide Hopkins biomedical researchers and students with $5 million in bridge financing over five years. Approximately six projects a year will be funded, with grants ranging from $25,000 to $120,000. The money, awarded in May, will be aimed at translational research.
What's more, CBID will continue to partner with groups like Jhpiego. In the last several months, for example, CBID has teamed up with Jhpiego on partnerships with both USAID and GE Foundation. McVeigh, from his Clark Hall office, says this investment in value-driven engineering products—simple, safe, and cost-effective—will pay off abroad and at home.
"Look," says McVeigh, "we're spending 17 percent of our GDP on health care in this country. … That's a huge number. We don't need to spend more money. We need innovation that is more efficient, performs better, and costs less money. That's where the winners will be over the next half century.
"We are building a program that will improve health care delivery not just in developed countries, but it will benefit developing countries, too.