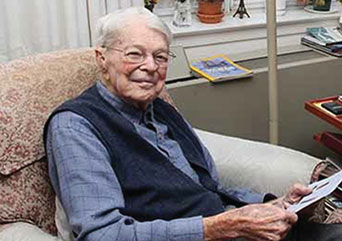 The eldest son of a third-generation builder who helped the city recover from the Great Baltimore Fire of 1904, Walter S. Brown, CE '28, has always demonstrated the practicality of an engineer. To wit: He decided to attend Johns Hopkins University because he lived with his family just four blocks north of the Homewood campus and could walk to school.
"It was the logical choice," says his son, Robert W. Brown (a mechanical engineer).
It was 1925 and Walter Brown had just graduated from the Baltimore Polytechnic Institute, the high school founded in 1883 to focus specifically on engineering studies. Given Poly's rigorous curriculum, graduates could go on to Johns Hopkins University and complete a bachelor's degree in just three years.
Back then, the Homewood campus was a tenth the size of what it is today, Walter Brown estimates, and men's lacrosse was all the rage. Freshmen had to get a ticket to every lacrosse game or risk receiving a paddling from upperclassmen, he recalls. Undefeated in 1926 and 1927, the Blue Jays won national championships in each of Brown's three years on campus, even representing the United States in its 1928 Olympic lacrosse debut in Amsterdam. Brown remains a fan today.
Beyond lacrosse, Brown remembers spending most of his time in Latrobe Hall with the 18 other men in his civil engineering class, including his younger brother Winfield Brown, CE '28, now deceased. Ever the engineer, Walter Brown particularly remembers from his campus days Latrobe Hall's thick roof: "Whenever I think of a slate roof, I think of Hopkins' slate roof. That's what you call a 500-year roof."
Soon after graduating, Brown received a letter from the B&O Railroad looking for Johns Hopkins civil engineers to apply for jobs. He went on to spend 37 years with the company, maintaining bridges and buildings and redesigning the double track in the Howard Street tunnel so the taller freight cars could run in the center, where there was higher clearance. When the company's corporate offices moved out of state in 1965, Brown joined the Maryland Public Service Commission, where he was chief engineer until his retirement in 1974.
Brown, who now lives in a retirement home in Sykesville, Maryland, was married to the late Lydia Mary Burbank Brown for 61 years, and they had three children. At 106, he is looking forward to the 2012 lacrosse season and his 86th season as a Blue Jays fan.