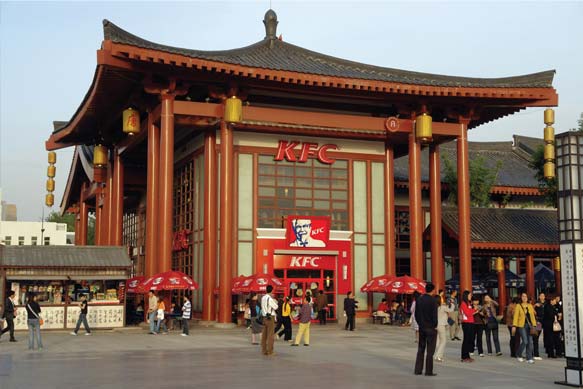 Back during their Homewood days, David Gibbs '85 and his roommates would make a late-night run to the KFC on St. Paul Street once a week or so for their so-called "second dinners," usually a two- or three-piece combo meal, depending on how much money they had in their pockets.
Their fried chicken runs foreshadowed an unexpected career. Today Gibbs is chief financial officer for Yum Restaurants International, responsible for the strategy and direction of KFC, Taco Bell, and Pizza Hut outside the United States and China-more than 14,500 restaurants in 120 countries.
As a mathematical sciences student in the Whiting School, Gibbs lived with teammates from the tennis and basketball teams and talked about a career on the tennis court or at a blackjack table. For his senior thesis, "Card Counting in the Eight-Deck Blackjack Game," he developed a computer simulation and tested his theories and approach with Delta Upsilon fraternity brothers in Atlantic City. But while he was having fun, he was working hard, too.
"I went on to business school at Duke and started a PhD at Stanford. But the hardest thing I've done is get an engineering degree at Johns Hopkins," says Gibbs, who now lives in Dallas with his wife and children. "I remember that first physics exam freshman year was a great awakening. I realized the only way you could get through Hopkins Engineering was to put in the time."
A summer internship at IBM helped him realize he didn't want to take the traditional path of an engineer, and after graduation he accepted a job at an investment bank. He decided that to succeed on Wall Street he would need an MBA and left after a year for Duke's Fuqua School of Business, where he was recruited in 1989 by PepsiCo to scope sites for new Taco Bell restaurants in the mid-Atlantic. Through mergers and acquisitions he rose up the ranks, most recently serving as Pizza Hut's CFO for four years. He was named to the position in the international group this year.
Yum is the world's biggest restaurant group, if you look at the numbers the right way, and Gibbs said his group is now focused on growth in five key areas: Russia, Africa, Germany, India, and France. (Of note: KFC restaurants in France outperform all other country cohorts in sales and profit margins.) This summer KFC entered Kenya and Ghana, becoming the first Western brand to open in East Africa, and Gibbs visited Nigeria in August to begin expansion there.
Yum is also a leader in corporate social responsibility, with a company-wide advocacy campaign that has raised close to $85 million for global hunger relief since 2007. With offices quite literally around the world, Gibbs spends about a third of his time traveling and says it's not unusual for him to start the day with a conference call on the way into his Dallas office or to end with another call late into the night to accommodate the 24/7 nature of global time zones.
The restaurants under Gibbs' purview are more than a world away from the Charles Village KFC he frequented in college, and he says that consumers familiar with Yum Brands stateside might not recognize it abroad. For example, in Brazil, where it's uncommon to eat with the hands, fried chicken is served with a knife and fork; and in India, where many people are vegetarians, the Taco Bell menu has abundant meatless options. In Asia, seafood is Pizza Hut's No. 1 topping, and egg tarts are a popular KFC dessert item.
Beyond customizing products for local tastes and customs, the group also has to manage a global array of labor laws and business practices-such as closing multiple times a day for prayer in the Middle East.