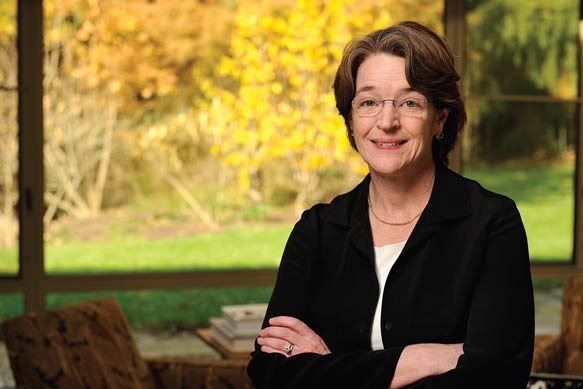 Kathleen Hogan's message is clear: Investment in making our homes and businesses more energy efficient will save us money, create jobs, and lower our carbon footprints.
As deputy assistant secretary for energy efficiency in the 
Office of Energy Efficiency and Renewable Energy at the U.S. Department of Energy, Hogan, who received her PhD in environmental engineering at the Whiting School in 1986, leads the federal government's $900 million effort to create policy and programs encouraging Americans to save energy.
Hogan's focus now is how to retrofit America's building stock—roughly 5 million commercial buildings totaling about 80 billion square feet, and more than 113 million occupied households, many constructed before energy policy was in place—to be more energy efficient.
Under the 2009 American Recovery and Reinvestment Act, the department created a grant program to demonstrate how to do home improvement retrofits "almost en masse," she says, making the conversion to energy efficiency more affordable for homeowners while creating work for home contractors. Her office also works with the business sector on strategies for larger-scale energy-efficiency efforts, all in the hope, she says, of "retrofitting millions of homes a year and billions of commercial square feet a year."
Another program under development would credential home contractors in energy upgrades, which marries well with the Home Energy Score program. The idea is that a home contractor, preferably one who is credentialed, would visit a home and give it a score of 0-10 in energy efficiency. The score would be accompanied by a set of easy-to-implement, relatively inexpensive energy-saving measures to improve the score, along with an explanation about the impact on their energy bill.
Hogan lives with her husband and two sons, ages 16 and 18, in Baltimore's Roland Park neighborhood, a short distance from the Homewood campus. Since the family moved in a few years ago, they've made their circa 1970 home more energy efficient by installing high-efficiency air conditioning and windows, and they've bolstered their attic insulation and begun using compact fluorescent bulbs. "It's an ongoing project," she says—and one to which she is firmly committed.
One of the challenges this pioneering policymaker has faced—not only in her current role but also back to her early-career work at the EPA in mitigating greenhouse gas emissions and then 15 years leading the Energy Star program—is "finding things that people want to do, that's in their own interest, that are win-win-win.
"This is sort of what you learned at Hopkins: If you haven't had an objective to do something before, let's not just assume it's expensive but see if there's a little step to take to build in the new objective as well, and get it done 
at a reasonable cost.
"There's so much that we can do with technology and innovation if we put our minds to it and that is what will keep making this 
country competitive and a [world leader]. We want to address the energy resource and technology issues so people can have the lives they envision having—but do it with as minimal impact as possible."