How great ideas are making it to market, thanks to an enterprising new breed of engineers.
Related Stories:
» From Mind to Matter
» Model Employee
Sitting alone in her incubator, Karin Hwang looks and sounds incredibly grown up for her age. It's a little after 10 a.m. on a brisk Wednesday. Late by normal natal standards, but the half-dozen baby businesses that are taking their first steps here, in offices dotting the third floor of Baltimore's old Eastern High School, are just waking up to the day.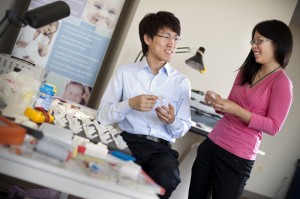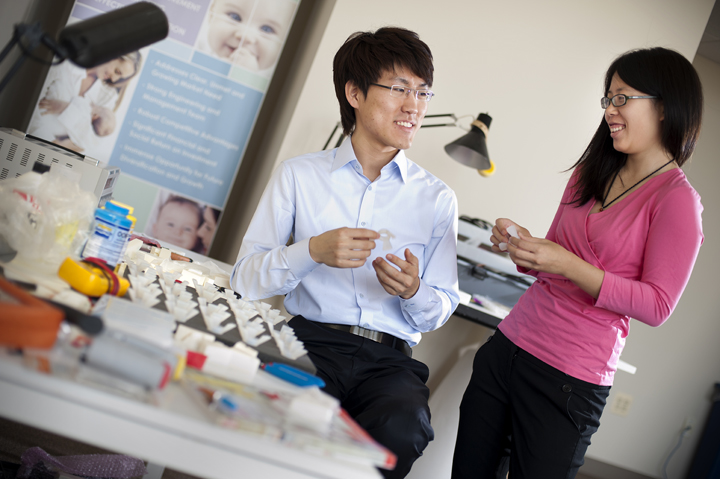 Such is life in the Emerging Technology Center at Johns Hopkins at Eastern, which seems intent on nurturing its newbies, right down to the "Go 'n Grow" cubical suite for those cash-poor start-ups fresh out of the womb. As Hwang makes her way past the darkened offices and enters her office-cum-lab, B309, two things mark her immediately as a member of Generation Tech: a case of Coke sitting atop a donated mini-fridge and two well-used couches-heavy fuel for the mission-driven and a soft landing place in the wee hours for the mission-exhausted.
And yet, the fact that Hwang's even on this mission, at this relatively tender age, speaks volumes about a sea change in academia. In the middle of a desk filled with an engineer's knick-knacks-a wire here, a plastic mold there-Hwang is holding her future (and perhaps the future of accurately testing for the onset of labor) in the palm of her hand. CervoCheck, the tiny three-legged piece of rubbery silicon, hardly seems revolutionary-but then again, the wheel probably wasn't all that impressive at first to those who hadn't seen it before.
Not that long ago, the only way Karin Hwang would have gotten this close to a piece of emerging technology seeking a market would have been deep in the lab of a conglomerate that would have owned her work lock, stock, and all the free tea and soda they could pour down her gullet. Given the traditional, fundamental engineering curricula Hwang would have been exposed to just a few years ago, the biomedical engineer wouldn't even have known what to do with such a medical device, other than perhaps perfect its physical properties.
The potential game-changer Hwang is holding is anything but a gift from some corporate taskmaster. While still a student at Johns Hopkins last year-indeed, as the core part of her master's program in Bioengineering Innovation and Design-Hwang and three fellow engineers were responsible for identifying the need that such a device could fill, designing said contraption, and determining its patentability, market, and business viability. Nothing was left to guesswork, as a unique curriculum guaranteed that Hwang would receive as much exposure to entrepreneurship and business as she did to beefing up her biomedical engineering chops.
And when the program was said and done, Hwang wasn't. Along with classmate Sung Jin "Nate" Sunwoo, she set up shop, began negotiating a licensing agreement with Hopkins, found a few sheep for testing the device, and set about on the wondrous process of taking an engineering idea that had come in part from her mind and bringing it to a place where it could safely be placed in the human body.
At 23, she also created a business card with the appropriate business title: CEO.
Throughout the Whiting School, engineering students are being exposed to the culture of business in ways that would have been unthinkable in the days when their veteran professors attended university-a time when "knowledge for knowledge's sake" ruled the day.