Last spring's massive oil spill off the Gulf Coast left responders scrambling to deal with the aftermath. What lessons did we learn? Three Hopkins engineers offer their expertise from the field. By Christen Brownlee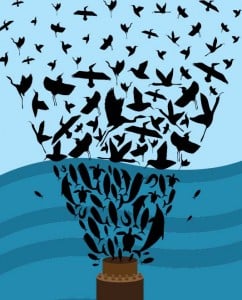 Just outside the office of geography and environmental engineering professor Ed Bouwer sits a filing cabinet topped with two small fishbowls, each holding a single purplish-blue betta. Paper signs taped below each bowl offer details on each fish: Sushiflower, on the right, names roast beef as his favorite food. Vicious Vinnie, to the left, was rescued from an epic battle with another unnamed fish in which he lost his tail. But it's growing back nicely now.
Despite any previous traumas, on this sunny afternoon both fish hover lazily in the middle of their peaceful simulated-natural habitats, blissfully unaware of the disaster that had befallen their aquatic brethren down south. For three months, oil gushed practically unchecked from a pipe jutting out of the sea floor about 41 miles off the coast of Louisiana. A portion of the oil poisoned fish and other sea life, as well as the nearby beaches and wetlands. By the time the well was capped, nearly 5 million barrels of crude had spilled into the Gulf of Mexico from the remains of the Deepwater Horizon well, making this among the worst oil spills ever in human history, not to mention in American waters.
What can we learn?
As long as humans have had access to oil, accidents have happened—in 2010 alone, at least 13 other documented oil spills took place around the globe. Yet, no matter how many spills the world contends with, responders often desperately scramble to deal with the aftermath, taking with them few lessons to prepare for future disasters.
While no one hopes to see another Deepwater Horizon–scale accident, some Whiting School faculty are devoting their time to studying the spill, producing research, and generating ideas that may help responders react more effectively to future oil spills. "
There are more and more oil rigs out there, and chances are high that another one will eventually have a spill. The take-home message is that we have to make sure we learn from these failures," says Bouwer.