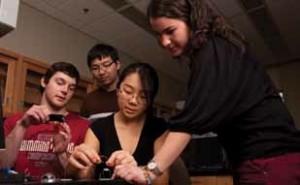 Engineering World Health
Simple Solutions to Saving Lives
Sometimes the solution to a big problem can be relatively small and simple. Take, for example, the defibrillator testers that members of the Johns Hopkins chapter of Engineering World Health are building as part of the group's mission to deliver medical equipment and expertise to underserved nations.
The 4-by-3-inch rectangles of hard black plastic arrive in pieces, their LED lights, wires, and circuit boards in need of an hour's worth of soldering and assembly. The completed testers are distributed to hospitals in a handful of developing nations including Honduras, Costa Rica, and Tanzania to assess the function of the lifesaving medical device used to treat cardiac patients. Though small, the devices, which aren't widely available in these countries, can make a huge impact.
"These testers are really important because they can help save lives," says Danielle Dorfman '11, a biomedical engineering major and founding member of the group. "Here we are at Johns Hopkins, home to the best hospital in the country and in the world. We know we have the resources to make a difference in these hospitals and that's just what we hope to do."
EWH-JHU, which was founded in Spring 2008, plans to assemble at least 100 of the testers this year. But that's not their only focus. Members are also working to establish a relationship with local hospitals so they can volunteer in the clinical engineering department fixing broken medical equipment. With that knowledge, the students hope to repair the broken medical equipment they've collected over the past year and send it to hospitals overseas. And the students just submitted a proposal for EWH's national design competition to build a manually powered otoscope for use in developing countries where external power sources are inadequate and batteries are not in large supply. Otoscopes, which are used to look into the ears and diagnose ear infections, are not widely available in medical facilities in developing nations, where undetected chronic ear infections are a major cause of hearing impairment.
"In the United States we have all of the medical equipment we need, but it wouldn't necessarily fit in the environments in the developing world," explains Brian Keeley '11, a biomedical engineering major who is president of the chapter. "It might be too technical, require too much power, or be too expensive. What we want to do is come up with a simpler design that's cheaper to manufacture and easier to use." Although many of the group's 30 members are biomedical engineering majors, their reasons for joining vary. Freshman Manjima Dhar says she wanted to see firsthand how engineering and medicine worked together. What drew Zachary Patterson '13 was a desire to help people in need. "This is just a great opportunity to serve people who are so often neglected," he says.
Engineering World Health members say they learn each day of another need for medical supplies and equipment overseas, which strengthens their resolve to help. Not too long ago, Rabia Karani '13 had such an experience when she told her family about her work with the group. One of her uncles, who works in a hospital in Pakistan, was especially excited about Karani's involvement in addressing health disparities and emailed her a short list of some basic items like centrifuges that his hospital lacks and desperately needs. She can't wait to help. "When you think of all of the luxuries we have in American hospitals that people don't have elsewhere, it just really opens your eyes," she says.