Related Stories:
» Cities on the Edge
» Stop the Leak
» Planning for Surprises
Cities across the country —and around the world— are falling apart from the inside. The Whiting School is uniquely positioned to lead the way in assessing, modeling, and monitoring 21st-century solutions.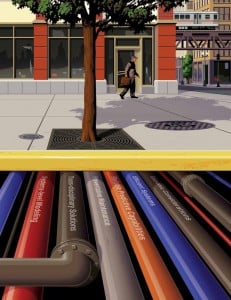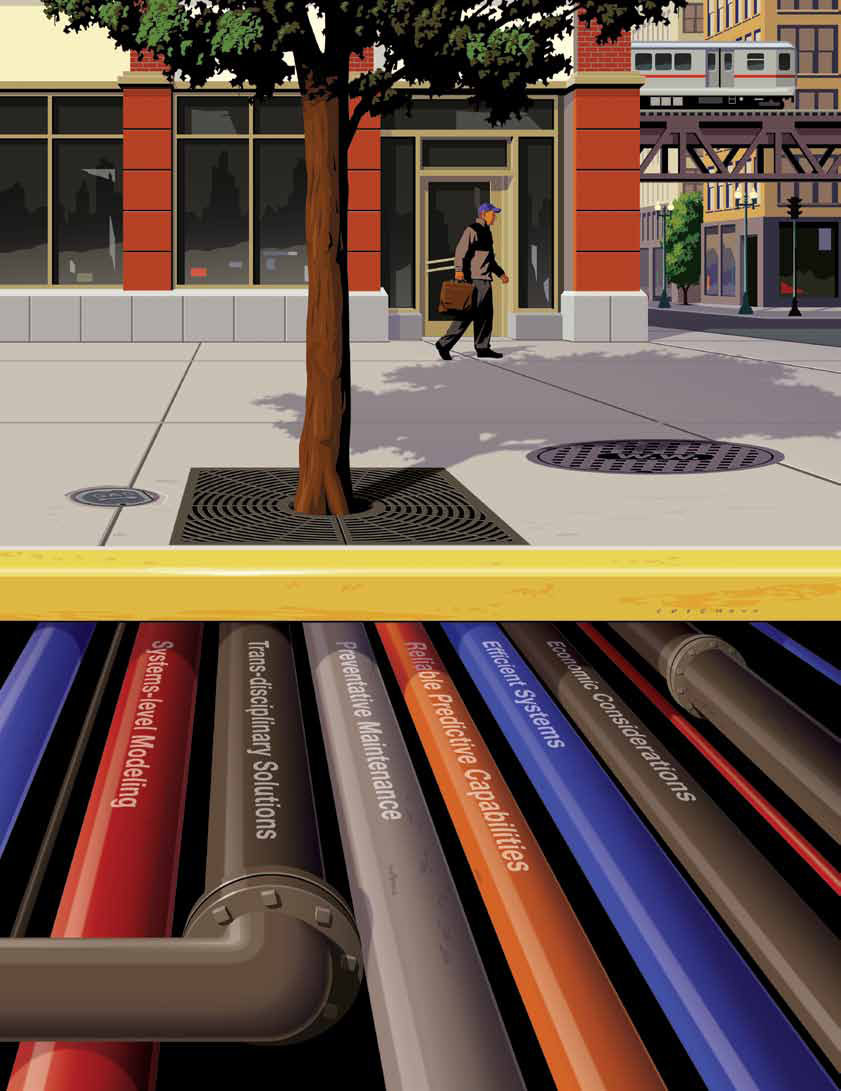 On a cold winter morning just two days before Christmas 2008, schoolteacher Sharon Schoem was on the road, driving through the moneyed and manicured suburbs of Montgomery Country on her way to work. The Maryland county is ranked eighth wealthiest in the nation, and with nearly a third of the population over the age of 25 holding postgraduate degrees, it is the most highly educated as well. Clean streets, topnotch schools, and reliable municipal services are the expected norm in Montgomery County, so it was not without a sense of shock that Schoem suddenly found herself driving into a raging wall of water.
"The road was fine and then all of a sudden, just a gush of water came along with boulders and parts of trees," Schoem would later tell a local television news reporter. Beneath the county's neat streets a 45-year-old, five-and-a-half-foot diameter water main had ruptured, sending 150,000 gallons a minute rushing down the street, trapping Schoem and more than a dozen other motorists. A wetsuit-clad rescuer was eventually able to pull Schoem from her car and get her to safety. Although no one was seriously injured, several people needed treatment for hypothermia from exposure to the cold water. That evening, TV viewers across the nation watched dramatic footage of four other motorists escaping from their cars by way of a rescue cage dropped from a Maryland State Police helicopter hovering high overhead, perilously close to the high voltage lines that run alongside the road.
Americans may have been startled by the images of fellow citizens escaping an infrastructure mishap run amuck—just as they were horrified by bloated bodies floating in flooded New Orleans streets, and crushed cars pulled from the Mississippi River after the Minneapolis I-35 bridge collapse—but the one thing they shouldn't be, say experts, is surprised. "Our infrastructure is suffering from years of neglect and inadequate investment," says Whiting School Dean Nick Jones, who holds an appointment in the Department of Civil Engineering. "In the area of drinking water in particular, our systems have been seriously neglected and are under tremendous pressure. Essentially we are living on borrowed time." Warning that "decades of underfunding and inattention have jeopardized the ability of our nation's infrastructure to support our economy and facilitate our way of life," the American Society of Civil Engineers (ASCE) released its biennial report card on the state of America's infrastructure in 2009. The country earned a cumulative grade of D in areas ranging from traffic and mass transit, to aviation, rail, bridges, dams, levees, water and sewer, and electric energy supply.