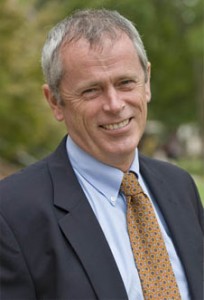 On May 31, 2009, Nereus, a hybrid, remotely operated submarine dove 10,902 meters into the Mariana Trench and gathered images and samples from one of the world's last remaining frontiers. The dive made Nereus the world's deepest-diving vehicle and marked the start of a new era in deep-sea exploration.
Back in Baltimore, the Whiting School community was thrilled to hear of the expedition's success. After all, the project's co-principal investigator, Louis Whitcomb, is one of ours—a professor of mechanical engineering at WSE. Along with his graduate students and colleagues from the Woods Hole Oceanographic Institution, Louis developed the sub's navigation and control system.
Reading about Nereus, I realized that the kind of science fiction that fueled my imagination as a child is now taking place at WSE. Every day, our faculty "explore strange new worlds" (such as studying cell detachment at the subcellular level—research at the Institute for NanoBioTechnology) and "boldly go where no man has gone before" (including the work of professors James Spicer, Kevin Hemker, research engineer Denis Nagle, and Takeru Igusa with the Applied Physics Lab, who are developing materials and design criteria for the Solar Probe's 2015 mission to the sun's corona). And the prosthetics that professors Alison Okamura, Ralph Etienne- Cummings, and Nitish Thakor are working on prove that we do, indeed, "have the technology" to make people "better, stronger, faster." What's happening in our labs and classrooms is fantastic—both wonderful and almost unbelievable.
I'm also happy to report that student applications and acceptances remain strong. We again had a record-breaking number of applicants whose qualifications are the highest in the school's history. Graduate admissions are as competitive as ever, including in our new master's programs in Financial Mathematics, Engineering Management, and Bioengineering Innovation and Design.
Providing financial aid at a competitive level remains a Whiting School priority and this spring, President Ronald Daniels stated his commitment to making a Johns Hopkins education accessible to all students, regardless of their financial means. He is working with the Homewood deans to achieve this goal. Already, the Whiting School has committed to a 50 percent tuition grant to any Hopkins undergraduate or alumnus pursuing a full-time master's degree at the Whiting School (see article in this issue).
Though the year's economic news has been far from rosy, we are weathering the storm. I am confident that with your continued dedication and leadership, we will emerge from this period even stronger than before.
On behalf of our students, faculty, and staff I want to thank you for your support of the Whiting School of Engineering and wish you a wonderful summer.
Best wishes,
Nicholas P. Jones
Benjamin T. Rome Dean, Whiting School of Engineering