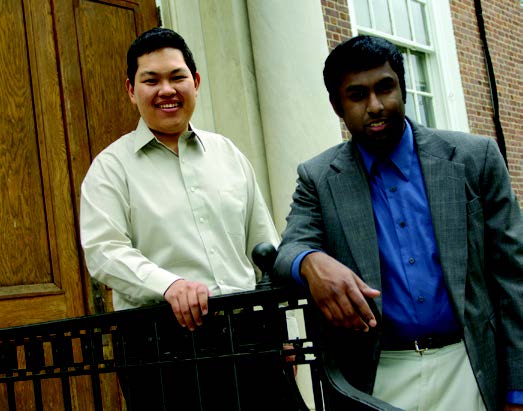 WHEN T. ROWE PRICE, the global investment management firm headquartered in Baltimore, went looking for qualified college seniors for its highly competitive two-year Investment Fellowship Program, it did not have to go far. The firm came to the Whiting School of Engineering.
This June, Eric Chu '06 and Prashant Jey '06, both of whom majored in Biomedical Engineering, begin their careers at T. Rowe Price as two of the four Fellows hired nationally to take part in this prestigious program.
T. Rowe Price recruiters recognize that engineers excel at analyzing complex issues and developing innovative solutions to problems, and the firm appreciates that these abilities are honed in the Whiting School's classrooms and labs.
Although Chu and Jey may have spent much of the past four years studying topics such as the "reactive oxygen species' effect on myocardial cells" and the "microfluidic system for assembly and culture of multi-cellular tumor spheroids," they also were gaining the kinds of skills that are both applicable and highly desirable across a broad range of disciplines. Working in the firm's "investment front office" areas on a rotation schedule, the two recent graduates are gaining professional experience in areas including portfolio analysis, trading, risk management, asset allocation, and financial modeling.
"Modeling DNA formations of proteins and modeling financial markets and bonds are actually not that different."Eric Chu '06
Chu explains that ever since he was in high school, he knew he wanted to work in business and finance. When he heard about the fellowship program with T. Rowe Price, he applied immediately. "There are clear connections between the work I've done as a Biomedical Engineering student and the work I'll be doing in my new job," he states. "I think Engineering students here have a really strong work ethic and are able to juggle many demands. Also, like financial analysts, engineers do a lot of work with modeling and numeric computations. Modeling DNA formations of proteins and modeling financial markets and bonds are actually not that different." Chu hopes that during his fellowship, he can take part in rotations that involve biotechnology and medical instrumentation and put to use his considerable knowledge in these fields.
Jey, too, recognizes that the skills he learned as an Engineering student will serve him well in his new job. "In fact," he says, "I was kind of stunned by how similar the types of problems they showed me during my interview were to the work I've done in class. I have strong analytical skills and a good understanding of modeling." Like Chu, he believes that his specific knowledge of biomedical issues— from its basic concepts to a familiarity with its language—will enable him to better evaluate biomedical companies.
In April, representatives from T. Rowe Price returned to campus to participate in a networking program that included a dinner and the chance to speak with students about fellowships and internships. Sholeh Dadressan, the firm's corporate recruiter who met with the students, observes, "We were very impressed by the caliber of the Johns Hopkins students, are excited to welcome the two JHU Fellows, and look forward to building a long and successful partnership with the school."