Nozzles wear out at an alarming rate in water jet cutting. A novel method of reducing this abrasion has wide applications in manufacturing.
Asked to describe his work, Joe Katz says, "I'm looking for trouble." Katz, who holds the William F. Ward Sr. Distinguished Professorship in the Whiting School of Engineering, explains that in his area of interest in mechanical engineering—applied fluid mechanics—he seeks to "identify problems and then utilize knowledge to solve them."
Judging by his list of innovations, Katz has found more than his share of "trouble." There's the Axial Turbomachine Facility, which for the first time makes it possible for turbine designers to observe flow patterns in the midst of rows of moving blades. Before that, Katz and his team had tackled the problem of tracking flow structure and turbulence by creating a research tool called Particle Image Velocimetry (PIV), as well as their own patented fluorescent PIV particles and a holographic enhancement of PIV. Faced with the problem of studying turbulence on the extremely hostile ocean floor, Katz, working jointly with Thomas Osborn, professor of Earth and Planetary Sciences in the Krieger School of Arts and Sciences, adapted a laser optics system that solved it. And when Mechanical Engineering professor Charles Meneveau needed to corroborate mathematical models of turbulence with flow fields, Katz devised a way to do it with PIV and holographic technology. Together with research scientist Edwin Malkiel of Mechanical Engineering, they also use holography for studying flow-plankton interactions in the laboratory and the ocean.
The list goes on. But Katz's most exciting project these days is Lubrijet, Inc. As the name indicates, this is a research project that is going commercial—a start-up company with excellent market potential.
In the cold cutting industry, a lot of abrasive is wasted and a lot of energy is consumed. Joe Katz and Umang Anand '01 PhD had a better idea.
The Lubrijet story began several years ago when Katz had a conversation with senior lecturer Andrew F. Conn '57, '59 MSE, '64 PhD about a manufacturing challenge in this field. Grounded in industry, Conn is an expert in the industrial use of water jets to cut metals, ceramics, glass, and other materials. Intro-duced in the 1980s, water jet cutting is a cold cutting technique. It offers manufacturers a distinct advantage over heat-generating techniques, such as saws or lasers, because it does not alter the properties of the materials being cut, as high temperatures would. But there has always been a major drawback: cost.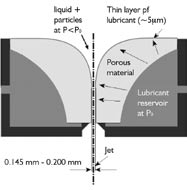 Water jet cutting uses more than just water. To do the actual cutting, an ultra-high-speed, tightly focused stream of water is used to propel small, abrasive particles of garnet or aluminum oxide at the target material. The problem is that even though the nozzles are made of diamond or sapphire, the abrasives also wear them down, and at an alarming rate (some have to be replaced every 10 or 20 minutes). High replacement costs made the process too expensive for all but the most critical cutting assignments.
To reduce the cost, the jet cutting industry came up with the concept of using a mixing tube. Rather than pumping the abrasives through the nozzle, they would be injected from the sides of a mixing tube attached downstream from the nozzle. Although the tubes also wear out in 20 to 50 hours, they make jet cutting commercially viable. This nozzle-plus-mixing-tube approach now dominates the market, but it leaves a lot to be desired. In addition to being expensive, it is also inefficient and less accurate. To get enough of the particles up to a speed sufficient for cutting, "exotic" pressures must be used—ranging from 50,000 to 60,000 psi. A lot of abrasive is wasted, and a lot of energy is consumed to achieve such high pressures. What's more, the tube opening must be wider than that of the water nozzle, and wear makes it even larger, so it's harder to do critical cuts accurately.
Katz worked closely with Umang Anand '01 PhD, his former doctoral student, to come up with a novel solution: porous lubricated nozzles. By making the nozzle out of porous material and jacketing it with high-viscosity lubricant that would be pulled through to the inner nozzle surface as the abrasive-laden water jet passes through (due to the pressure difference across the nozzle wall), wear could be dramatically reduced.
To test the idea, Katz and Anand first built a porous lubricated nozzle with "windows" that allowed them to observe performance. They then moved on to an axisymmetric nozzle prototype. Results were gratifying. Without lubricant, the nozzle opening widened by 111 percent in 90 minutes. Using the lubricant, the widening was reduced to 2 percent. With the concept proven, it was time to get down to business.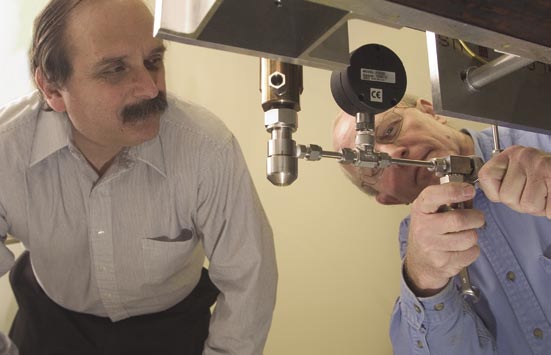 Start-up Poised for Scaling Up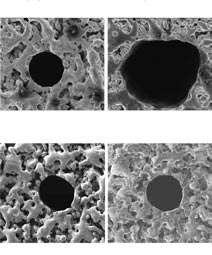 Katz and Anand applied for patents not only on the porous lubricated nozzle but also on a porous lubricated mixing tube—designed as a cost-effective aftermarket upgrade for much of the abrasive water suspension jet equipment already used by industry. Anand received awards from industry. The two researchers were funded by the National Science Foundation and by TEDCO (Maryland Technology Development Corporation) and Katz created a new privately held company, Lubrijet, Inc., to pursue commercialization. As president of this start-up, Katz will provide the technical leadership. John Murphy, a visiting scientist at the Whiting School and a chemistry PhD with extensive industrial experience, will run the business as executive vice president.
The Lubrijet team is now racking up performance data using its patented nozzles and tubes on standard commercial equipment on loan from Onyx Industries. With Lubrijet's mixing tubes that will last four times longer and nozzles that have no competition, its prospects are excellent for getting the venture capital needed for scaling up production. As Katz says, this new technology "can cut anything," and costs are at the top of the list.
Visit Joe Katz's web site at facultyprofiles.engineering.jhu.edu/ME /listing.html?select=fl&id=152&item=g . To learn about his Laboratory for Experimental Fluid Dynamics, visit www.me.jhu.edu/~lefd/ .