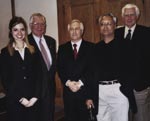 What sets your firm apart from your competitors? What is your advice to an aspiring CEO? When students asked a group of corporate leaders questions like those, they received helpful answers at a well-attended session, "Inside the Mind of the CEO."
Presented by Alpha Kappa Psi Business Fraternity (AKP), Rho Psi Chapter, the event took place on April 7 in Maryland Hall. It was cosponsored by the Whiting School of Engineering's Development Office and the W.P. Carey Program in Entrepreneurship & Management.
"The speakers were candid and were willing to speak to students individually after the event. All in all, it was a great networking event, connecting students with real-life CEOs," said Ashlyn Schniederjans, a senior Economics major who is president of AKP.