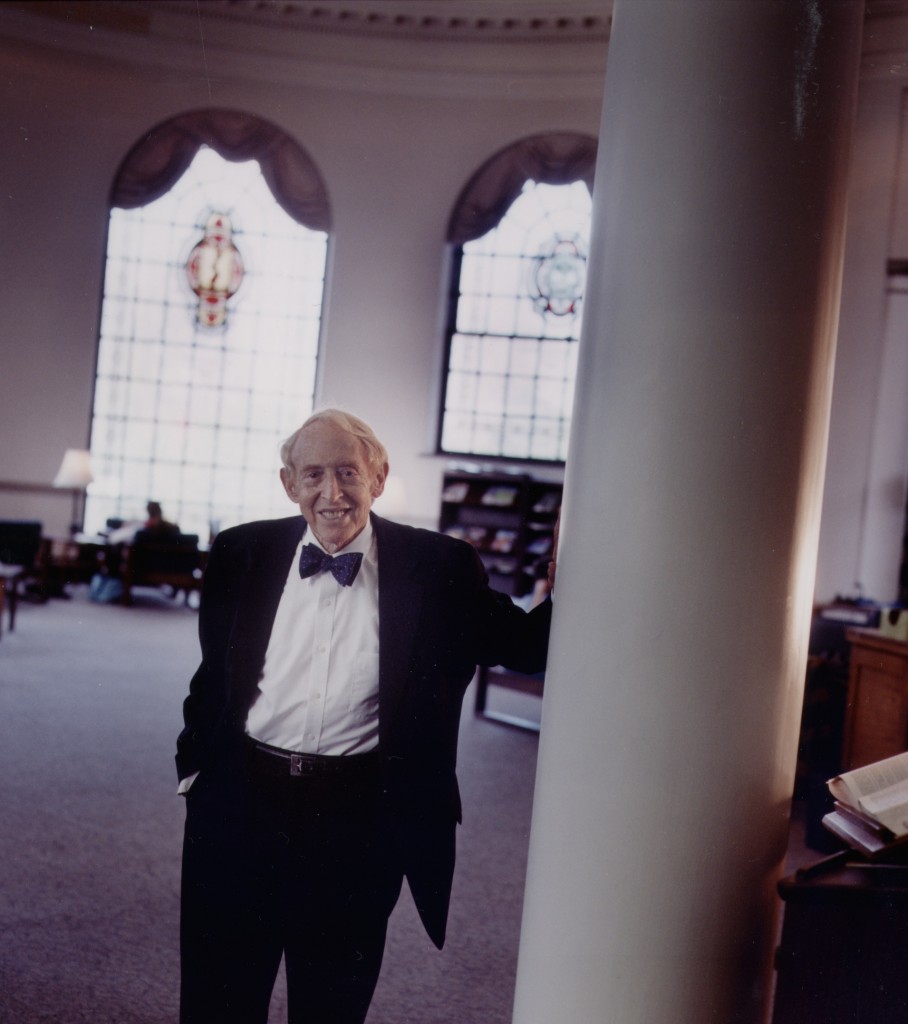 THE FRANKLIN INSTITUTE in Philadelphia in April awarded M. Gordon "Reds" Wolman '49 a prestigious Benjamin Franklin Medal for his contributions to modern water-resource management. As part of the week of festivities in Philadelphia celebrating the laureates, Wolman spoke on "Fluvial Processes in Geomorphology and Environmental Management" at the Symposium on Earth and Environmental Science.
Wolman is the B. Howell Griswold Jr. Professor of Geography and International Affairs in the Whiting School's Department of Geography and Environmental Engineering. He is internationally known for his research on how rivers and other surface water systems evolve and modify the landscape and the relative roles of human and natural forces in shaping the land and waters. His research provided the basis for much of the current water quality management and public policy.
"Reds is a visionary academic who is committed to the idea that environmental stewardship requires knowledge that is both deep and broad," notes Charles O'Melia, who is the Whiting School's Abel Wolman Professor of Environmental Engineering and chair of the department. "Reds has played a leading role—by personal example, by academic leadership, and by advising many academic and research programs—in defining the nature and scope of effective, rigorous, and interdisciplinary environmental education. The link between science and society is not an abstract theme for Reds, but a path to action, and his indefatigable service, combined with his good-natured wisdom, has influenced environmental decisions and decision-makers around the world. This is a well-deserved honor."
A faculty member since 1958, Wolman chaired the Department of Geography from 1958 to 1968, has twice served as the University's interim provost, and chaired the Department of Geography and Environmental Engineering from 1970 to 1990. His father, the late Abel Wolman '13, '15, established the Department of Sanitary Engineering in the School of Engineering and the School of Hygiene and Public Health, and chaired it from its start in 1937 until 1962.
In spring 2005, William R. Brody, president of Johns Hopkins, awarded Reds Wolman the Milton S. Eisenhower Medal in recognition of his "extraordinary devotion to Johns Hopkins." The Eisenhower Medal, established by the Johns Hopkins Board of Trustees in 1967, has been awarded to only 12 others, including Abel Wolman in 1973.
"…his indefatigable service, combined with his good-natured wisdom, has influenced environmental decisions and decision-makers around the world." CHARLES O'MELIA
Among Wolman's many accolades was being elected to the National Academy of Engineering in 2002 and the National Academy of Sciences in 1988. He received the American Geological Institute's most prestigious award, the Ian Campbell Medal, in 1997 and the Geological Society of America's highest award, the Penrose Medal, in 1992. In 2000, he received the American Geophysical Union's Robert Horton Award, which recognizes outstanding contributions to the geophysical aspects of hydrology; it also was awarded to Abel Wolman (1986).
Reds Wolman shared the 2006 Benjamin Franklin Medal in Earth and Environmental Science with another luminary who followed in his father's environmental footsteps: Luna B. Leopold, professor emeritus of the University of California, Berkeley, and son of Aldo Leopold. Wolman and Luna Leopold, who met in the 1940s, "changed the field of physical geography by introducing quantitative methods into a discipline that had been purely descriptive," noted a Franklin Institute press release. In 1964, they published their seminal book, Fluvial Processes in Geomorphology, with John Miller. The medal to Leopold was presented posthumously; he died in February at age 90.
The Franklin Institute's awards date to 1824. Laureates have included Albert Einstein, Alexander Graham Bell, Thomas Edison, Jacques Cousteau, Jane Goodall, and Abel Wolman (1968).