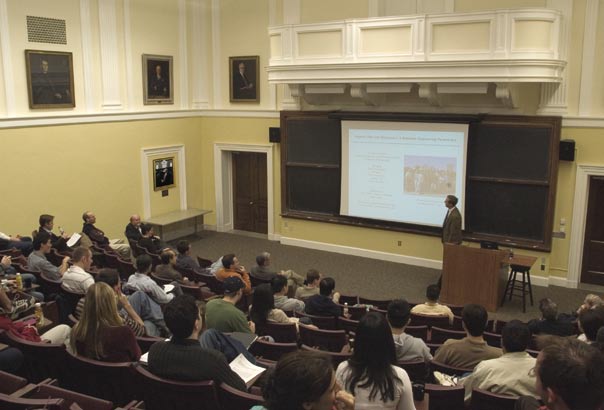 Since 1915 and the first class of Johns Hopkins Engineering students, Maryland Hall's signature space has been the site of lectures and seminars. Now that space, transformed with state-of-the-art teaching technology, has been dedi- cated as the Harold N. Taylor Auditorium. It features electronically operated video/computer projection, enhanced lighting, improved HVAC, and the latest sound system.
Harold N. Taylor '42, '45 MS funded this major renovation to show his appreciation for and fondness of the Homewood campus, where he earned two degrees in Chemical Engineering. The alumnus joined faculty, students, and administrators for the dedication ceremony on October 22.
Taylor's background reflects the innovation that characterizes Hopkins engineers. During World War II, his faculty mentor at Hopkins, the late Paul Hugh Emmett, the legendary catalysis researcher who had organized the Chemical Engineering department in the 1930s, asked his protégé to come to New York City to take part in the Manhattan Project to separate uranium ore. Taylor received his PhD from Cornell University in 1949.
Moving to the business world in 1953, Taylor began by turning around the once-floundering Hagerstown Leather Goods Company. He went on to found Ardee Industries to manufacture lunch kits. He then built a business empire in Maryland that included the Avalon Manor nursing home, Custom Computing, and Maryland Paper (a recycler of newsprint and boxes into roofing felt).
Maryland Hall, which anchors the Engineering quad on the lower campus, was the first occupied academic building at Homewood. Thanks to Taylor's generosity, its auditorium reflects his wishes to make a positive impact on the lives of students and faculty in the Whiting School of Engineering. The auditorium will also showcase its high-tech features in its lecture series, which attracts a wide audience from the profession and the community.