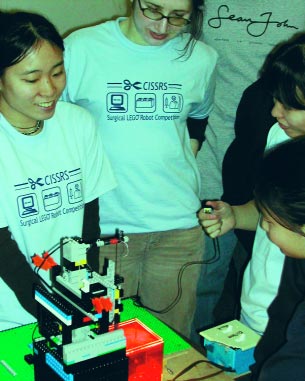 It's hard enough finding a needle in a haystack. But try constructing a robot, then using it to guide a needle through a grape buried in Jell-O, as if you were a surgeon implanting radiation seeds in a cancer patient.
Eight high school teams took up that challenge as they competed in the CISSRS Surgical LEGO® Robot Competition. Held from January 23-26, the competition was sponsored by the Whiting School's Engineering Research Center for Computer Integrated Surgical Systems and Technology (ERC CISST), which is directed by Russell H. Taylor '70 (see the Spring 2002 Johns Hopkins Engineer). The competition took place in a former Stieff Silver Building, renovated for use by the Whiting School.
The three-person teams came from five high schools— Southwestern and Lake Clifton in Baltimore City; Woodlawn in Baltimore County; Walt Whitman in Montgomery County; and Conrad Weiser in Robersonia, Pennsylvania. During the four days, the students received an introduction to Computer Integrated Surgery (CIS); tutorials on various LEGO MindStorms building techniques, including ways to use motors, gear trains, and sensors; and tutorials on LEGO programming language. Then they set about building their computer-based medical robots from the $200 kits. On the final day, they tested their devices—and their dexterity.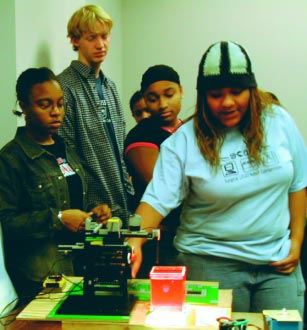 Each team that completed a robot had to use it in a simulated surgery, guiding a surgical needle to puncture the grape (representing a tumor) suspended inside the jelled cube. A lamp and a light sensor that interfaces with the robot's microprocessor helped them locate the target. The competition simulates using one of the tools that CISST is designing for operating rooms of the future.
The annual LEGO competition (the first was in 2000) is organized by students in the Computer Integrated Surgery Student Research Society (CISSRS) at the Whiting School, as well as students in two partnering institutions—the Massachusetts Institute of Technology and Carnegie Mellon University. The Johns Hopkins Alumni Association is a sponsor of the competition.
For more information, visit cisstweb.cs.jhu.edu/
The link for the student organization is cisstweb.cs.jhu.edu/ ~cissrs/index.html