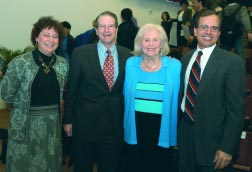 The role of intelligence versus being lucky in entrepreneurship was the intriguing topic that drew almost 200 students, faculty, and staff to Maryland Hall in April. Rajendra Singh, telecommunications entrepreneur and University trustee, spoke on "Discerning Trends When the Business Environment Is Cloudy." The occasion during which Singh was honored was the annual Blumenthal Lecture and Award for Contributions to Management in Technology. They are made possible by the generosity of the late Sydney Blumenthal '37 and his wife, Mitzi.
Singh earned his doctorate in electrical engineering then pursued a career in university teaching. He went on to establish and manage several telecommunications companies.
Past Blumenthal lecturers have included Norman R. Augustine, former chairman and CEO of Lockheed Martin; Michael Bloomberg '64, mayor of New York City and University trustee and benefactor; Daniel S. Goldin, former administrator of NASA; Allan Huston Jr. '66, former president and CEO of Pizza Hut Worldwide; Alfred E. Mann, who pioneered a rechargeable pacemaker and to whom Hopkins awarded an honorary degree in 2001; William Perry, former U.S. secretary of Defense; and Bert C. Roberts Jr. '65, University trustee.