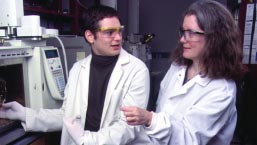 "Over the past few years, scientists in Europe have found pharmaceuticals in natural waterways, sewage treatment effluents, and even in drinking water," says A. Lynn Roberts, associate professor in the Department of Geography and Environmental Engineering (DoGEE). "Yet until very recently this issue has been largely overlooked in the United States," she adds.
Roberts is leading a team of environmental engineers who are studying the effects of prescription drug pollution nationwide on human and aquatic life. Funded by a three-year Environmental Protection Agency grant for $525,000, they are analyzing human pharmaceuticals and antiseptics in drinking water, sewage treatment plants and coastal waters.
"There are many ways in which human pharmaceuticals in the environment could produce undesirable effects on aquatic organisms or even humans," Roberts points out. The research involves assessing which human pharmaceuticals in current use are likely to pose a risk to the environment, developing methods for their analysis at trace levels, and testing to determine how effectively pharmaceuticals are being removed during the treatment of drinking water. The team is conducting tests to see how well pharmaceuticals are being removed at sewage treatment plants in Massachusetts and Maryland. They will also collect water samples in the upper Chesapeake Bay to check for the presence and concentration of drugs and antiseptics. And they will try to determine how efficiently nature's self-cleansing processes eliminate these man-made pollutants.
"The millions of doses of prescription drugs that Americans swallow annually to combat cancer, pain, depression, and other ailments do not disappear harmlessly into patients' digestive systems," she says, "but instead make their way back into the environment, where they may contaminate drinking water and pose a threat to aquatic wildlife."
For more information, visit www.jhu.edu/~dogee