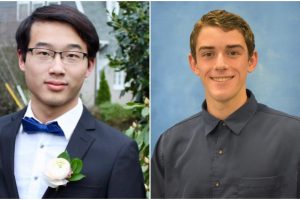 In a year that featured its most ever applicants, Weiting Tan and Alex Ozbolt were selected for the prestigious Huggins Undergraduate Summer Fellowship! Each student will receive a $4,000 fellowship as well as $500 stipend for supplies to conduct research with two of our professors during the summer.
Tan will be working with Emad Boctor on hardware design of the lego-ultrasound module. Ozbolt will be working in Najim Dehak's lab with Laureano Moro Velazquez on reliable detection of Parkinson's Disease using multimodal analysis of large crowd-sourced corpus.
The William Huggins Award is made possible through the generosity of the William H. Huggins Endowment for Electrical and Computer Engineering. Professor Huggins, a Hopkins faculty member from 1954 through 1984, was a member of the prestigious National Academy of Engineering. His early research focused on electrical circuit theory and the theory of signals and systems. Colleagues say that Huggins encouraged Hopkins administrators to acquire the university's first computer 40 years ago, and during the 1960s, he became a strong advocate for the use of these machines as teaching tools.