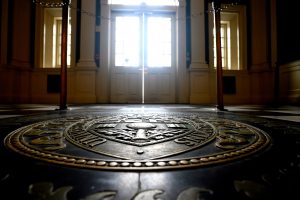 Tony Stratakos '92 enrolled at Johns Hopkins planning to become a medical doctor. In fact, he declared a major in pre-med without even consulting the university's list of offerings. There was just one little hitch in his plans: at that time, Johns Hopkins did not offer a pre-med major.
"I received a call from the school a few days prior to the start of the year and was asked if I wanted to declare a major that actually existed," Stratakos said. "Having a father and brother who were both electrical engineers, I chose an ECE major, to which the school representative paused and asked 'Really?' I guess electrical engineering and pre-med was an uncommon combination in 1988."
Though his academic career at Hopkins may not have started the way he planned, Stratakos could not be happier with how it played out. Among his fond ECE memories are learning about integrated circuits, and programming his first microcontroller to make a robot move. However, it was a passion for analog chip design, ignited in a class taught by Andreas Andreou, which ended up changing Stratakos's intended career path from medicine to the semiconductor industry.
While working towards his PhD at University of California, Berkeley, Stratakos started his own company – Volterra Semiconductor, which had a successful IPO and was eventually acquired by a larger semiconductor company. Stratakos remained in the industry until September 2019, when he decided to pursue another passion by founding and becoming the CEO of Element Energy Inc., a San Francisco-based systems and software company with a strong machine learning component. Underpinning the formation of this new venture was Stratakos's firm belief that engineers have a moral obligation to work on humanity's most critical problems.
"The problem I am most passionate about solving is climate change," he said. "Element Energy is a battery management software company that leverages a unique hardware architecture to improve the energy throughput, safety, and lifetime of large battery packs used in electric vehicles and utility-scale energy storage. The path to carbon neutrality is solar and wind power coupled with massive amounts of battery energy storage to stabilize the grid."
Although energy generated from solar and wind are now often less expensive than burning fossil fuels, the battery energy storage necessary for those sources to be used remains expensive. Stratakos is particularly excited to deploy Element's technology to enable safe "second life" packs built from batteries salvaged from retired electric vehicles, which he sees as a solution that answers two problems: Battery energy storage at less than half the cost possible today, and putting a dent in the megatons of battery waste otherwise headed to landfills.
Though the global COVID-19 pandemic and the resultant "shelter-in place" orders in the Bay Area have slowed work at Element Energy recently, Stratakos considers himself and his new company lucky. Despite the company's youth, it already boasts an impressive list of partners, including LG Chem – the world's largest battery manufacturer – and has received what Stratakos calls "plenty of financing." Stratakos is confident the business will survive the current global pandemic.
As a leader of a company during a global pandemic, Stratakos is focusing more on his employees' safety and well-being as opposed to looking only at the company's productivity. Stratakos says that he learned that approach during his time at Johns Hopkins, and he considers that lesson to be just as important as the excellent education he received.
"I learned to balance a difficult school schedule with athletics, friends, and fun, and truly take in the college experience," Stratakos said. "I think that learning to achieve this balance was the most important lesson I had at Hopkins."