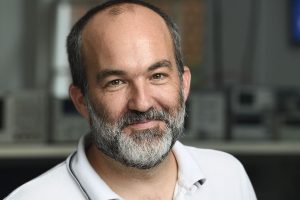 Pedro Irazoqui, a pioneer in the development of wireless implantable devices with the potential to treat conditions such as epilepsy and depression, has been named head of the Department of Electrical and Computer Engineering at the Whiting School of Engineering. His research focuses on leveraging circuit design, telemetry, wireless power, and other tools of electrical engineering to create systems-level medical devices that can be worn or implanted not only to track patient biomarkers associated with diseases, but also to deliver therapy.
Irazoqui's work related to epilepsy is centered on preventing Sudden Unexpected Death in Epilepsy (SUDEP), which kills one in 1,000 adults with epilepsy each year. Researchers believe that such sudden death may involve the way seizures reflexes in the vagus nerve – a cranial nerve that splits into many branches below the diaphragm, affecting both respiration and the production of stomach acid. Irazoqui's solution to preventing this is an implantable device modulates neural activity during a seizure, preventing death. His glaucoma research is focused on lessening fluid buildup in the eye, which increases pressure on the optic nerve, potentially damaging it and leading to blindness. To combat this, he has created a set of special contact lenses and eyeglasses that, when worn together, create an electromagnetic field and current that helps lessen production, and increase drainage of fluid in the eye.
Irazoqui joined Johns Hopkins from Purdue University, where he was the Reilly Professor of Biomedical Engineering, as well as served as associate head of research (2013-2018) for the Weldon School of Biomedical Engineering, and as interim head (2018-2019) for the School of Electrical and Computer Engineering. He also founded the Center for Implantable Devices in 2010, and held the title of director until 2021.