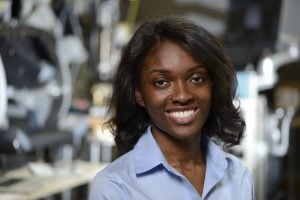 The cover of the July 2021 edition of the Journal of Biomedical Optics (JBO) features a paper written by Muyinatu Bell, an assistant professor in the Department of Electrical and Computer Engineering (ECE) and the principal investigator for the Photoacoustic & Ultrasonic Systems Engineering (PULSE) Lab.
The JBO is an open access journal that publishes peer-reviewed papers on the use of novel optical systems and techniques for improved health care and biomedical research.
The paper "Comparison of compressional and elastic wave simulations for patient-specific planning prior to transcranial photoacoustic-guided neurosurgery," compares presurgical photoacoustic simulations methods to determine the best locations to place photoacoustic imaging system components for neurosurgical guidance during surgery. It was co-written with ECE PhD candidate Michelle Graham and Reese Dunne, an undergraduate student from Mississippi State University who Bell mentored during JHU's Computational Sensing and Medical Robotics REU summer 2020 program.
"I am thrilled to see research from the PULSE Lab on the cover of JBO," Bell said. "This project is an extension of Michelle's steady progress towards her PhD degree. We engaged the assistance of Reese during the summer of 2020 to help us push the frontiers of photoacoustic-guided neurosurgery by asking if compressional wave simulations were sufficient for patient-specific, pre-surgical planning, as opposed to elastic wave simulations that model both compressional and shear waves."
Elastic wave simulations model both compressional and shear waves. In compressional waves, particle motion occurs along the direction of wave propagation. In shear waves, particle motion occurs perpendicular to the direction of wave propagation. In their study, the team found that the addition of shear waves did not add substantial value.
"After conducting this research, we consider compressional wave simulations to be sufficient for advancement and development of our novel technique to guide neurosurgeons with photoacoustic imaging," Bell said. "It is a pleasure to have Michelle and Reese as members of the research team that uncovered these insightful results."