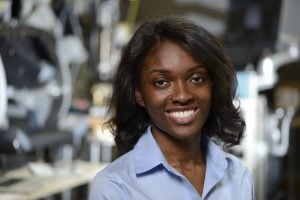 Muyinatu Bell, an assistant professor in the Department of Electrical and Computer Engineering who is also the principal investigator of the Photoacoustic & Ultrasonic Systems Engineering Lab (PULSE Lab), will deliver a Hot Topic talk at the SPIE Photonics West 2020 Conference, which is set to take place from February 1-6 in San Francisco.
The SPIE Photonics West Conference is one of the largest conferences for the global photonics community, and this year's is expected to set records in terms of number of attendees (23,000), exhibitors (1,400) and technical presentations (over 5,000).
The Hot Topic talks, which occur during the event's first night, are always one of the highlights of the conference, with a number of scientists presenting summaries of their work in quick 10-minute intervals. In order for research to be selected it must be deemed significant, impactful, and of interest to a broad audience.
During her talk, Bell will describe her lab's novel light-delivery systems that attach to surgical tools to deliver light to surgical sites. Her talk will also go over the development of acoustic beamforming algorithms that improve image quality using state-of-the-art deep learning methods applied directly to raw sensor data.
"Many of the ideas that I will highlight in my talk were first presented at SPIE conferences and first published in SPIE affiliated journals," Bell said. "It is my pleasure to summarize my lab's progress to date on the topic of photoacoustic-guided surgery at this venue considering this interconnected history."
Bell will not be the only PULSE lab representative at the conference, as Ph.D. candidates Eduardo Gonzalez, Michelle Graham and Alycen Wiacek will also be presenting their research there. Along with her students having the opportunity to network and convey the work they have been doing to a broad audience, Bell is excited to share the stage with other leaders in the photonics field.
"I am honored to present alongside luminaries in the field, such as James Fujimoto at MIT, the inventor of optical coherence tomography," Bell said. "I am grateful to the conference chairs for this exciting opportunity."