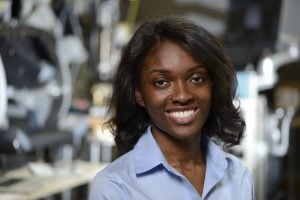 Muyinatu Bell, an assistant professor in the Department of Electrical and Computer Engineering, was recently named the recipient of the 2021 Early Career Achievement Award – Academic Focus by the International Society for Optics and Photonics (SPIE).
In its announcement of Bell's accomplishment, SPIE notes that the award "recognizes significant and innovative technical contributions in the engineering or scientific fields of relevance to SPIE." The award can be given to two people each year, but Bell is its sole recipient of 2021.
"If I had to describe my feelings in one word, my word would be 'thankful,'" Bell said. "I'm thankful for the recognition from SPIE. I am thankful for my support system in the form of nominators and reference writers who believe in me, advisors and mentors who helped me to build a strong foundation, students who are pressing forward in the most challenging of times, and the list goes on."
Bell founded and serves as the director of the highly productive Photoacoustic and Ultrasonic Systems Engineering (PULSE) Lab. The lab is recognized internationally for its work in medical imaging technology, specifically ultrasound and photoacoustic imaging, photoacoustic-guided surgery, robot-assisted imaging, machine learning for image formation, and other cutting-edge techniques created to significantly advance healthcare interventions and diagnosis.
SPIE listed four significant contributions the PULSE lab has made in SPIE-related fields: novel photoacoustic imaging techniques to guide surgery; theoretical development for coherence-based imaging approaches to improve image quality; integration of photoacoustic imaging with robotic surgical systems; and applying deep-learning approaches to ultrasound and photoacoustic image formation.
"I look forward to seeing these ideas implemented to improve and possibly revolutionize patient care one day soon," Bell said.
In addition to her research, Bell has been active in the SPIE community. She has served in a variety of roles for the organization, including leadership as session chair, program-committee member, and special-session organizer at SPIE conferences. Bell has also helped as a reviewer for the SPIE publications the Journal of Biomedical Optics and the Journal of Applied Remote Sensing, as well as being an editorial board member of Photoacoustics.
This recognition is not surprising to ECE Jacob Suter Jammer Professor Jin U. Kang, who first met Bell shortly after she arrived at Johns Hopkins University as a postdoc. He believes Bell's career has been on an "exponentially increasing upward trajectory" since her appointment as a faculty member in 2016. .
"She impressively carved a new research area of photoacoustic-guided surgery in the relatively short time span of her independent career," Kang said. "In light of her excellent track record to date, including her high research standards, her ability to think creatively to overcome research obstacles, and her passionate delivery of highly innovative and clinically useful technology, Dr. Bell is a shining star and an inspiration to our field. I expect her work to have lasting impact for years to come.
Click here to read SPIE's announcement of Bell's recognition.