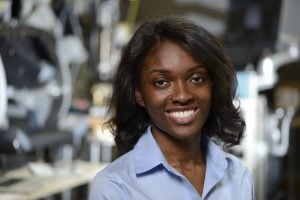 Muyinatu "Bisi" Bell, an Assistant Professor in the Department of Electrical and Computer Engineering, has been selected to receive a 2019 Sloan Research Fellowship, a very competitive honor that annually recognizes 126 U.S. and Canadian researchers who have made significant contributions to their fields early in their careers.
Bell, who directs the Photoacoustic and Ultrasonic Systems Engineering (PULSE) Laboratory, was nominated for the award by Ralph Etienne-Cummings, chair of the Department of Electrical and Computer Engineering. She is the lone winner from Johns Hopkins this year.
"Bisi is one of the rising stars in the department," Etienne-Cummings said. "In her young career, she has made some significant contributions in the field of photoacoustic imaging and guidance for surgical tools. This is a well-deserved recognition of what she has accomplished, and also a recognition of her potential to do great things."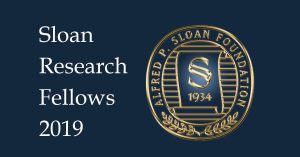 Sloan Research Fellowships honor researchers in nine fields, with Bell receiving her recognition in physics. That award usually highlights researchers in more traditional areas of physics, something Bell believes made her application on safety limits for the use of lasers while performing photoacoustic image guidance of surgery stand out.
"If you look at the handbook for the safe use of lasers, it only provides exposure limits for eyes and skin because, traditionally, lasers that are marked as safe for human use would primarily come in contact with one of these two organs," said Bell, who has a joint appointment in the Department of Biomedical Engineering. "I am developing an imaging technique that will see inside human bodies to help guide surgeons around critical blood vessels that they don't want to injure, while also safely getting the light as close as possible to the surgical site. This close proximity coupled with knowledge of the maximum permissible laser energy for specific tissues will work together to improve image quality."
The $70,000 fellowship will help underwrite the cost of supplies for Bell's labs on the Homewood and School of Medicine campuses. She believes that having work areas on both campuses is one of the many reasons why Johns Hopkins is the perfect place to conduct her research.
"Having access to two laboratories plays a big role in progressing this work forward," Bell said. "Also being able to collaborate with world class surgeons is crucial. I'm developing this technology for specific surgeries and speaking with surgeons to see what they actually need for surgical guidance is critical to developing the imaging technology. In addition to all of the facilities and resources that are available to support this research, being able to collaborate with world class surgeons at the Johns Hopkins Hospital is one of the many benefits to conducting this research here."
Bell is honored to join a distinguished list of researchers who were recognized in the past by Sloan Research Fellowships, including 47 Nobel Prize winners and 17 Fields Medal honorees.
Etienne-Cummings believes that Bell has more than earned her place among those distinguished past winners, and he hopes her recognition encourages others to follow her path.
"Students see these accomplishments. The faculty members become role models for their success too," Etienne-Cummings said. "With Bisi, there is yet another facet to the impact of this type of recognition: She is a young, African American woman who is at the top of her field at this stage of her career. Given how few women and under-represented minorities go into the STEM fields, this type of recognition, and its visibility to the community at large, could help encourage the next Bisi to join the science and engineering education and research pipeline!"
Click here for a press release about the award, and a complete list of this year's recipients.