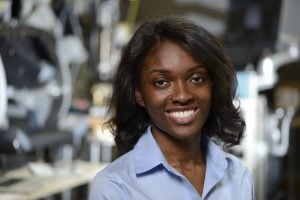 Muyinatu Bell, an ECE Assistant Professor and PULSE Lab Director, recently was awarded a $1 million grant through the National Science Foundation's (NSF) Smart and Connected Health (SCH) program, which aims "to accelerate the development and integration of innovative computer and information science and engineering approaches to support the transformation of health and medicine."
Bell's project – which includes Jonathan Chrispin, an assistant professor of medicine in the Division of Cardiology, Electrophysiology and Arrhythmia at Johns Hopkins School of Medicine, as the co-PI – will focus on improving the effectiveness of procedures pertaining to heart disease, the number one cause of death worldwide. Conventional interventional heart disease treatments rely on x-rays to guide procedures, which can be harmful to patients and to those administering the x-rays, who experience repeated exposure over time.
"This is an important challenge and open research question that my lab is uniquely equipped to solve," Bell says.
Bell aims to replace x-rays with photoacoustic imaging, which she believes holds promise both for guiding treatment catheters to the heart, using robotic assistance, and for visualizing the phrenic nerve, which will help prevent neural damage during procedures. The project's studies will range from computer simulations that parameterize multiple system design possibilities to pre-clinical testing of the systems in large animal models with cardiac anatomy and size similar to human hearts.
Once the group completes the proposed studies, they will be in the position to proceed with future patient testing of the technology.
"This work introduces a paradigm shift with regard to medical imaging possibilities for interventional cardiology," Bell says. "There is much potential for impactful progress toward reducing reliance on the commonly used technique of fluoroscopy, which has well-known limitations."
Along with what her research will accomplish, Bell also will use the project to increase minority participation in computer science and engineering, and mentor the next generation of technological leaders.
Bell is committed to promoting the next generation of STEM leaders from underrepresented minority communities. In the past, she has accomplished this through a series of invited speaking engagements and by hosting summer students in her lab through programs such as Leadership Alliance EIP and the McNair Scholars Program. She views this project as another avenue to continue this work.
"I value the combination of drive, motivation, and excellence that these students bring to our projects when working with me, and I plan to continue including them in my research," Bell says. "I expect to advance the current state of medical imaging technology with them. They will, in turn, develop valuable research skills that will prepare them to be the next leaders of new and emerging technologies."