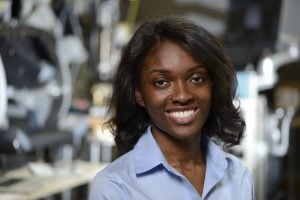 Muyinatu Bell, assistant professor in the departments of Electrical and Computer Engineering, Biomedical Engineering, and Computer Science, has been appointed the John C. Malone Assistant Professor.
The John C. Malone Assistant Professorship was endowed through the generosity of John C. Malone '64, '69 to support outstanding Whiting School faculty members within the Malone Center for Engineering in Healthcare.
As the director of the Photoacoustic and Ultrasonic Systems Engineering (PULSE) Lab, Bell develops theories, models, and simulations to investigate advanced beamforming techniques for improving ultrasonic and photoacoustic image quality. In parallel, she designs and builds novel light delivery systems for photoacoustic imaging and incorporates medical robots to improve operator maneuverability and enable standardized procedures for more personalized medicine. The technologies developed in her lab are then interfaced with patients to facilitate clinical translation. These technologies have applications in neurosurgical navigation, cardiovascular disease, women's health, and cancer detection and treatment.