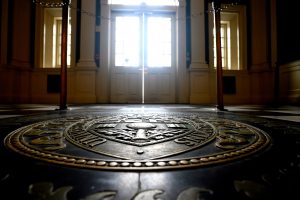 When Ndubuisi Ekekwe PhD '09 began his doctoral program in electrical and computer engineering at Johns Hopkins University in 2004, he had a clear goal in mind: to give the people in his home continent of Africa access to technology that will improve their lives.
Today, the Nigerian-born Ekekwe is considered one of Africa's most noted entrepreneurs, creating technology companies that focus on modernizing agricultural techniques and improving the continent's healthcare system.
One of Ekekwe's companies is Zenvus, which looks to give African farmers products—from a sensor that measures soil conditions and a drone that provides deep insights on the vegetative health of crops– that can drastically enhance their output.
"Technology improves productivity across industrial sectors. If Africa advances in agriculture, which employs 65 percent of the working population, extreme poverty will be 'cured,'" said Ekekwe, who serves as the founder for Zenvus. "Our farmers have seen tripling of yields depending on the base point. If we just double farm productivity, we will reduce poverty in Africa by more than 37 percent."
Much like with Africa's farming practices, Ekekwe's goal with the continent's healthcare system is to make it run more efficiently, with his current focus being on health record accessibility. His inspiration was a kinsman who became disabled because his treating physician was unable to access the patient's medical history, compromising the treatment.
In response, Ekekwe formed Medcera, a cloud-based platform that allows doctors and patients access to electronic health records unrestricted by geographical location.
"If you travel from Kenya to Nigeria and your clinics use Medcera, the new doctors can access your health records once you give them your code," Ekekwe said. "At any point, you keep one healthcare record, and it is available to all doctors that have access."
Ekekwe credits much of his success to his studies at Johns Hopkins. His first company, First Atlantic Semiconductors & Microelectronics, started with a product Ekekwe created in his first lab assignment there. That company has grown to become the largest Intel Corp partner in Africa, catapulting Ekekwe's technology entrepreneurial journey along the way.
"Johns Hopkins provided the platform to accumulate capabilities in the critical domain of microelectronics. I needed those to run an electronics business," Ekekwe said. "Choosing to attend Johns Hopkins remains among the top-three decisions I've ever made."