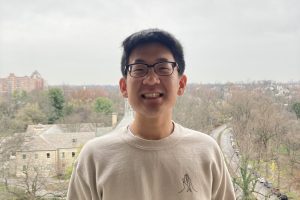 John Han, a junior in the Department of Electrical and Computer Engineering, has been announced as a recipient of a Provost's Undergraduate Research Award (PURA).
The PURA program was established in 1993 with the intent of supporting and encouraging Hopkins undergraduate students to engage in independent research, scholarly and creative projects. Each recipient receives $3,000, and the length of the award is one year.
Han's project is titled "Laser speckle contrast imaging to improve the detection of precancerous lesions in routine colonoscopy." His faculty advisor for the project is Nicholas Durr, an assistant professor in the Department of Biomedical Engineering who has a secondary appointment with the ECE department.
The main goal of Han's project is to employ a technique using laser speckle contrast imaging – which uses laser speckle (an inherent property of laser light which produces a grainy like pattern when cast over a smooth surface) to detect any sort of superficial blood flow. Pre-cancerous lesions – tumors that will form on the surface – in the colon undergo a process called angiogenesis. As they develop and form, they have an excess of blood vessels in that area, and the imaging technique can detect these blood flows, meaning that it can detect tumors that can form.
If this project succeeds and implements itself for clinical use, it can help gastroenterologists to detect these cancers so that they can remove them in colonoscopy procedures, which currently has a miss rate of 25%, as the current process of removal is largely subjective and relies on the surgeon's instincts.