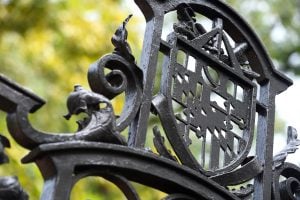 After four years dormancy, the Johns Hopkins University chapter of the Institute of Electrical and Electronics Engineers (IEEE) is making a comeback.
A not-for-profit organization, IEEE is the world's largest technical professional organization dedicated to advancing technology for the benefit of humanity. The organization has undergraduate branches at a wide range of universities across the world.
Though Johns Hopkins is not approving the creation of new clubs while undergraduate students are learning remotely, the IEEE group's leadership has been working hard to ensure the organization will be ready to hit the ground running once new groups can officially form. Fourth-year undergraduate Kevin Nodarse and third-year undergraduate Madeline Chabab will serve as the club's chair and vice-chair, respectively, while Dana Walter-Shock, senior academic coordinator for the Department of Electrical and Computer Engineering, will be the organization's adviser. In addition to getting its paperwork completed, the group also attended the Student Involvement Fair on September 4 to recruit more students, especially incoming first-year students.
"The students and faculty of ECE really do love this department," Chabab said. "There wasn't really a club or organization that was central for the department, and so while we were obviously excited to get JHU involved again with such a prominent organization, we were also really looking forward to having a club that could be central to the ECE department and serve our students' needs."
The IEEE JHU student chapter will serve as the hub for the academic, professional, and community interests of JHU ECE students. The group plans to host a number of events for members, ranging from technical and professional workshops offering sessions on resume building and job interview skills to a "research reading club" through which members can discuss the growth of the field and performing valuable community service.
Interest in resurrecting the group pre-dated the onset of the COVID-19 global pandemic, and though having its potential members scattered across the world has made restarting the club more challenging, interest in doing so has not waned. As of now, more than 40 students have expressed interest in joining.
"We've been absolutely blown away by the participation we have had, even in the remote environment," Nodarse said. "We hope that students are able to grow, not just academically and professionally, but also just as people in general. There are professional benefits from being a member of IEEE, like discounted tickets to certain events, which are great. But we like to emphasize more the benefits of our club on its own, not just IEEE."
Though the club's main goals are to help ECE students grow both academically and professionally, Nodarse and Chabab believe that the group's social element will be rewarding, as well.
The club has met virtually and in an unofficial capacity on a couple occasions, and Nodarse and Chabab have set aside time during those get-togethers for members to get to know each other through general socializing and playing online games. They view this as a way to build camaraderie and nurture a sense of community among ECE students that is especially valuable when students cannot meet in real life. The hope is that club members, especially first-year students, still feel connected, regardless of how many miles away they are.
"We are trying to recreate the ECE community virtually as best we can," Nodarse said. "We want to use the club to bring in the incoming freshmen who haven't been able to experience what it's like seeing everyone in the lounge, and what the department and student body is like when it is running full steam ahead in person."