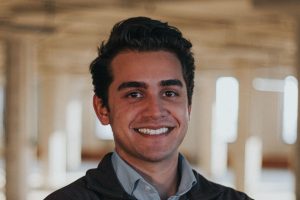 Ian McLane, a doctoral candidate in the Department of Electrical and Computer Engineering (ECE), has been selected as a 2022 Forbes 30 Under 30 honoree. McLane, who is a member of ECE Professor James West's lab, was included in Forbes' healthcare category.
"It's an honor to have been nominated and then selected for this list, especially considering the caliber of my peers on the list this year across all categories," McLane said. "I've been working on this research with Dr. West since my sophomore year at Hopkins and it's incredibly exciting to have worked on the technology through its entire lifecycle and that it is finally getting out there and being recognized."
McLane, who is also the cofounder and Chief Technology Officer for Sonavi Labs, was selected for his work with re-engineering the traditional stethoscope to diagnose pneumonia, which has a 91% accuracy rate. He was also selected for having eight patents. McLane is currently working on validating next-generation algorithms for patients with chronic conditions such as asthma and COPD.
When asked by Forbes about who his dream mentor would be, McLane was quick to mention West and how instrumental he has been to his growth.
"I was fortunate to have found my dream mentor early in my career," McLane said. "Dr. West—inventor of the electret microphone, godfather of modern acoustics, and diversity in STEM advocate—is highly sought after as a mentor and I am fortunate that he has been a major catalyst in my life."
For McLane, being named to this list is a thrilling experience, but it doesn't represent the end of his journey with this research.
"It's been a long road with a lot of ups and downs and there is still a lot of work to come to grow this to where we want it to be and make it widely accessible," McLane said. "Small wins like this are always exciting to celebrate and to keep me motivated."