Design of Biomedical Instruments and Systems course gives students the entrepreneurial experience to succeed outside of classroom
December 30, 2019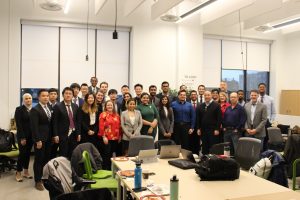 The room has a long conference table, with a panel of three local Baltimore-based investors sitting at one end, a projector and screen in front of them. Occupying the table's other seats are representatives from startup companies that have prepared 10-minute pitches for the investors, hoping to receive good news about their products.
The scene sounds like it is from the business world, but it's not. The setting is an academic course, more specifically, the Department of Electrical and Computer Engineering's Design of Biomedical Instruments and Systems class.
The startup companies are comprised of trios of students who have been developing business ideas throughout the semester. Though it is part of a class and no actual money exchanges hands for investments, the setting is sharply professional, with students in business formal attire, and it occurring away from the Homewood Campus at Fast Forward U.
The course's instructor, ECE associate research professor Israel Gannot, wants his students to approach this course with a "bench to bedside to market," mindset. "Bench to bedside" is a commonly used phrase to describe the process by which results of research are directly used to develop new ways to treat patients. The "market" addition refers to creating products while considering certain questions, such as what the demand would be, how much competition there is, and what sort of facilities would be needed. Each of the group's presentations brought forth their findings in those areas in addition to advertising their products.
"You have to be able to have a bigger and broader view of things to be able to effectively work with others, and to lead companies as well," Gannot said.
Among the products the students propose are a hi-tech insole for a shoe that provides information on where the user's foot is applying unnecessary pressure and a health monitor to help solve the United States' high mortality rate among pregnant women, as well as a warning system for cardiovascular and frailty issues for the elderly.
The panel of investors – which included Lewis Berman (vice president of ICF International), Barry Bogage (executive director of the Maryland Israel Development Center) and Jay Steinmetz (CEO and founder of Barcoding Inc.) – share what they like after each presentation. They also reveal what would concern them if they were actually being asked to put money into the project.
Senior Junjun Chen was part of a group that proposed an implantable drug delivery platform that would increase treatment effectiveness. For Chen, who had some entrepreneurial experience prior to the course, Gannot's emphasis on the consideration of ethics was the greatest insight.
"Before taking this course, I only believed that a good idea and story were the two crucial elements in a successful entrepreneurship. If the startup has a better idea than its competitors and can deliver a compelling story to the investors, it will succeed," Chen said. "Throughout the semester, my point of view has changed because ethics plays a significant role in the success of an entrepreneurship, too. Without ethical decisions, the company would not survive long term. Now, I believe that there are three components in a successful business: a good idea, good story, and good ethics."
Another focus of Gannot's is on communication. He has his students give presentations to the rest of the class about their companies throughout the semester, during which fellow students give feedback. For Gannot, this helps students consider alternate point of views, and how to interact with those who disagree.
Gannot hopes the class creates well-rounded students who are able to succeed outside of the classroom. For Chen, the experience ensures that students will come away with a useful array of tools, and that is why he suggests younger students take the course.
"Rather than a pure engineering course, the class gives students a unique opportunity of hands-on product developing, financing, and marketing," Chen said. "This exercise gave us an unparalleled experience that no other class could offer. Being required to think like an entrepreneur allowed us to get a comprehensive picture of each complicated process involved in research, regulation, and business. The knowledge we acquired laid a concrete foundation for students' entrepreneurship in the future."