In 2021, students developed designs to address multiple areas of the Alexandria City Hall and Market Square in Alexandria, Virginia.
Plans included a redesign of the fountain and functional space of the Market Square plaza and use of the City Hall rooftop to create a new interior courtyard seating/meeting area. The rooftop designs will also contain areas for vegetable growing, rainwater collection, and solar panels.
Design Day is a school-wide initiative for the Whiting School of Engineering. Visit designday.jhu.edu to view a full listing of projects that show how our community is creating a better future, translating theoretical knowledge into real-world solutions.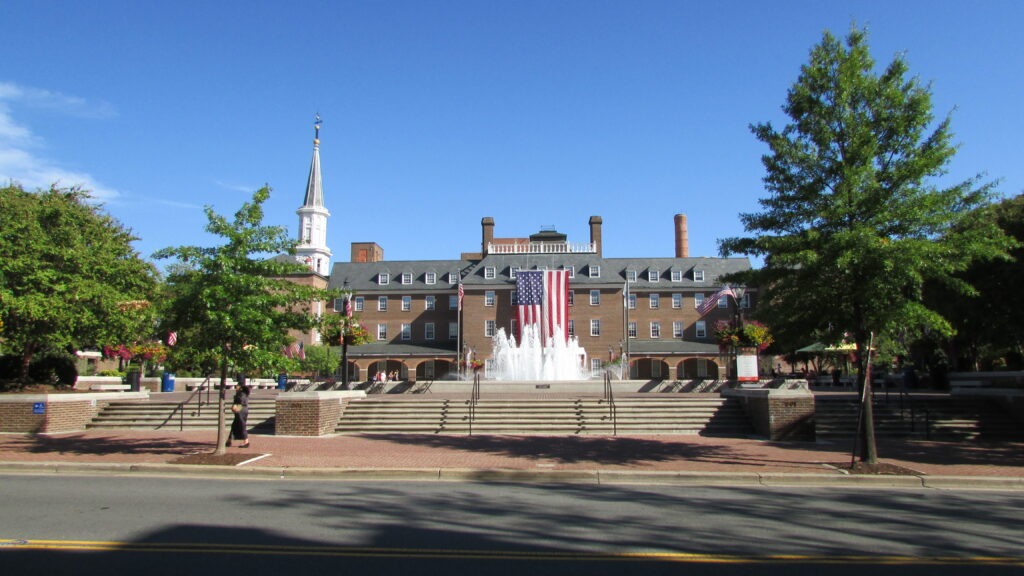 Student plans seek to achieve the following goals:
Showcase versatility via new design concepts as well as design within the varying levels of existing or historic construction.
Design outdoor, public structures to serve community use and accommodate environmental exposure.
Create a structural design for both gravity and lateral load-resisting systems, both within existing context and for new construction.
Showcase experience with sustainability and green design through the following:

Reuse of existing construction,
Development of basic systems/routes for water collection and storage in a new cistern, and
Designs to accommodate green roof and solar panels.
PARTICIPANTS: Simi Aluko, Carson Drew, Cassandra Factora, Trevor Henigan, Taeki Kim, Cassidy Manning, Naomi Meiselman, Kayla Ostrow, Jonathan Resnick, Natalia Zhukova
TIMELINE OF EVENTS:
2–4 p.m.: Student Presentations
4:15–4:30 p.m.: Blue Hat Ceremony
4:30–4:45 p.m.: Presentation of Convocation and Graduate Student Awards