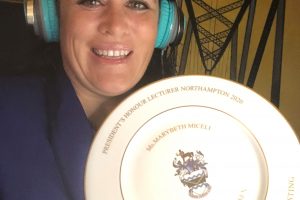 University teaches students to study a topic and identify gaps in the body of existing research and determine areas in need of further investigation. DMSE alumna Marybeth Miceli says using that same mindset to identify areas of the industry where her specific skills sets would come in handy not only helped her carve out a place in the market for her businesses, but has helped engineering companies improve technology, methodology, and sometimes, even save lives.
Marybeth Miceli ('99) is Co-Founder of the We-NDT Marketing Network and President and founder of Miceli Infrastructure Consulting, two fields of work that are seemingly quite different. But if you ask Miceli, the common denominator is communications and most importantly, her own passions and skillsets. The Nondestructive Testing (NDT) industry landscape encompasses a wide variety of different engineering and scientific disciplines and Miceli found a reoccurring challenge to be the lack of communication at different levels. Specifically, how NDT and Structural Health Monitoring (SHM) companies communicate the services they provide to investors and consulting engineers to ensure the right experts for a specific job are hired. It was these two niches she designed and developed her businesses to fill.
Miceli has worked all over the world and across the nondestructive testing field. Soon after graduation, she was involved with ensuring site-safety for rescuers and clean-up crews at Ground Zero after 9/11 and the collapse of the Twin Towers in Manhattan and installed and executed strain gauge testing of the retractable roof of the Milwaukee Brewers' stadium. Her years of working on-site, at different levels and with everyone from construction workers to engineers gave Miceli invaluable insight on what problems arise from a lack of communication and how to resolve them.
"Marketing is essential in NDT because nobody outside of the field really knows what it is, but it's essential to everyone all over the world," said Miceli about her field which spans from oil drilling and aircraft inspection to bridge and nuclear powerplant safety.
NDT companies need to effectively market themselves to investors who may not be fluent in the jargon nor understand what NDT entails. Investors need to understand why an NDT contractor's technology is critical to the marketplace, or how investing in a company in the testing, inspection, and certification space allows for resiliency in a portfolio. Miceli's marketing firm helps contractors get these points across in ways that make highly technical assessment methodologies like radiography and ultrasonics accessible for their investor or asset owner audiences.
The lack of NDT engineering fluency on the part of different types of stakeholders (i.e. transportation departments, oil or airline companies, etc.) was another gap in the communications landscape. Essentially, it's a lot less costly to inspect, diagnose, and repair a bridge than to recover from a failure caused by something preventable at a structural level that could be prevented by NDT. Miceli Infrastructure Consulting aims to empower asset owners looking to contract engineering firms to make the best choice based on their expertise as NDT engineers and educate along the way.
"In working with infrastructure officials over the years, I realized they don't know the much about NDT and inspection other than visual inspection," said Miceli. By explaining aspects of testing and assessing the structures to asset owners, Miceli and her experts are helping their clients ensure their safety. Safety is, of course, a continuous goal in any engineering field and especially during times of global hardship like the shutdowns of major industries and fields of operation by COVID-19.
Most recently, Miceli was recognized by the British Institute for Non-Destructive Testing with the President's Honour Lecture, "Current and Lasting Effects of COVID-19 on the NDT Industry." In her lecture, Miceli described for the audience, comprised of NDT practitioners and researchers around the world, how the global pandemic has drastically affected the supply chain, quality control, economics, and workforce throughout the field.
By examining how COVID-19 has forced NDT engineers to overcome new challenges in insourcing/onshoring, automation, sector diversification and business development and the lasting effects, Miceli's presentation underlined the necessity of adaptation and resiliency for businesses in the NDT space.
"The NDT industry is generally seen as recession-proof. However, our industry, which is heavily reliant on the oil & gas and commercial aviation sectors, has seen now how we need to shift from purely focused on efficiency to a balance with resilient investments in technology such as automation, robotics, machine learning, and AI."
Miceli is continuing her mission to bring together best practices in different, seemingly disparate, fields by taking on an additional position as Executive Director of the NDT Management Association which deals with leadership, business, and regulatory issues within the NDT industry.
Click the links to learn more about We-MDT Marketing Network, Miceli Infrastructure Consulting, NDTMA and to reach out directly to Marybeth Miceli, email her [email protected]