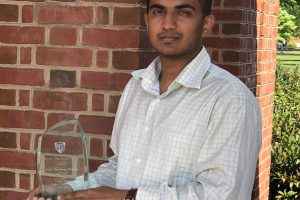 PhD candidate Suhas Eswarappa Prameela has received the Engaged Scholar Graduate Student Award from the JHU center for Social Concern. Suhas works in Professor Tim Weihs lab and was nominated for this award by people from different departments across campus, including three DMSE faculty members: professors Tim Weihs, Evan Ma, and Patricia McGuiggan.
"I am very grateful for the wonderful support from my adviser (Prof. Tim Weihs) as well other faculty in the department. The ability to inspire, articulate complex scientific concepts and engage young minds with open questions provides me a great opportunity for learning and appreciating science from different perspectives. Their encouragement towards teaching and mentoring undergraduate students at Hopkins as benefitted me immensely."
The Engaged Scholar Graduate Student Award is given to a Homewood-affiliated graduate student whose dedication to community engagement, through teaching, community-based program development, and/or research has enriched the undergraduate student experience and established meaningful community partnerships.