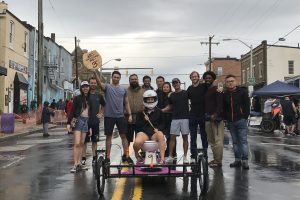 On September 8th, 2018 a group of Materials Science students entered the races; the Hampdenfest toilet-bowl races.
Led by third year grad student, Adam Peters, the DMSE students team entitled the Poo-Jays went on to win third place overall and the Best Use of Materials award in the 2018 Hampdenfest toilet-bowl races!
While assembling his team of graduate engineering students Peters stated "it has been a life-long dream of mine to race toilets" and with the annual Hampdenfest tradition that dream became a reality this past weekend as they raced to victory.
The team consisting of Materials Science students, Adam Peters, Gabriella Hunt, Jesse Grant, Alyssa Chuang, Aliya Carter, Peter Lile, Alberto Hernandez Valle, Jessica Ma, Shin-Jae Lee and Darius Williams, built a gravity-powered racer that consisted of "one clean human defecation device" and raced it to glory on September 8th while the crowd watched on. Out of 20 teams the Poo-Jays took home 3rd place, losing to the first place team by 0.5 seconds. The team used their engineering expertise to design, construct, and pilot their toilet racer to a victory; winning not only third place and a much coveted gold toilet seat, which is now proudly on display in Maryland Hall, but also the Best Use of Materials award.
The races may be over but the team showed outstanding teamwork, department camaraderie, and engineering capabilities, please join us in congratulating the Poo-Jays in their outstanding win, teamwork, and community involvement.
To view the award winning race please visit our Facebook (Johns Hopkins Materials Science and Engineering) and Instagram pages (jhu_materialssience).