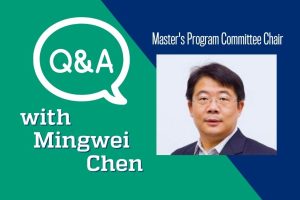 Mingwei Chen is not only an accomplished member of the materials science and engineering department but the chair of the master's program committee. Learn about how in this role, Chen has been working to improve the program, expand opportunities, and connect with students enrolled as graduate students currently and for those to come.
When did you assume the position of master's program committee chair and why did you decide to volunteer for it?
I volunteered in mid-2020 for the position because I knew I could connect with our master's degree students, the majority of whom come to Hopkins and our department from foreign countries. As a faculty member who immigrated from China, I knew it would be easy to understand and relate to our international students.
What are your biggest goals for your time serving the department in this role?
My biggest goal is always to ensure that our master's degree students receive the best possible education at Hopkins and to connect with each person in the program.
What most excites you about serving as master's committee chair?
For me, the most exciting part of the job is being able to help students pursue their dream, especially international students. I am deeply grateful for the generous help I received from my professors when I was young and came to US chasing my own dream.
Is there anything happening with the master's program that people should be looking for in 2022?
Yes! We are going to announce a new research scholarship program for two-year master's degree students! Our goal with the scholarship is to create more opportunities for students looking to pursue master's degrees at Hopkins and to take part in world-class research in our state-of-the-art materials research labs.
In your opinion, what makes an MSE degree from the Department of Materials Science and Engineering at Johns Hopkins University different than other programs?
Our program not only offers numerous academic and research opportunities to students but also has the unique resources like the JHU Life Design Lab and INBT Master's Co-Op Industry Program to help develop them as future professionals. And with our close-knit community, master's students will always have support on a personal basis from faculty and staff, and opportunities to form life-long friendships.
And last thoughts about the MSE master's degree program at Hopkins?
I have every confidence in the growth of this program in the coming years. As committee chair, I'm working to secure more resources and support from the department and beyond. I think it's everyone's dream in the department to offer the best master's degree education to more students than ever before – and from every corner of the world!
Learn more about earning your MSE with us
Jumpstart your career and expand your knowledge base with a master's degree in Materials Science and Engineering.