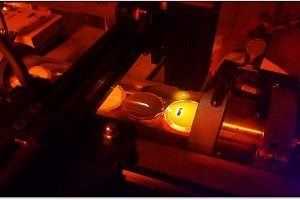 It's a good thing DMSE PhD candidate Adam Peters' research focuses on materials for extreme conditions because, lately, his hard work in the lab has him on a hot streak. Most recently, Peters took first place in the student award competition at the 2020 National Space and Missile Materials Symposium for his oral presentation entitled "Selective Laser Reaction Sintering of Ultra-High-Temperature-Ceramics and Other Refractory Non-Oxides". The NSMM Symposium was supposed to have taken place in Rockville, Maryland this year, and with COVID-19 precautions moving everything online, Peters wasn't aware the oral and poster presentations were still being judged.
"I was surprised by the win because I hadn't done a formal submittal process for the competition," said Peters. Having tied for first place at last year's conference in Las Vegas, Adam was excited to (virtually) take home the win.
Working in Jim Spicer's lab, Adam's research is developing methods for using additive manufacturing to manipulate ultra-high temperature ceramics for spacecraft and hypersonic components. Historically, ultra-high temperature ceramics were typically used as coating materials or formed into geometrically simple parts made to withstand the extreme environments experienced by spacecraft reentering Earth's atmosphere, among other ultra-high temperature scenarios. Peters hopes his research and a recent patent he has developed will lead to 3D printing of components entirely made from heat-resistant ceramics, rather than simply coating them with tiles or other outer-layer technology.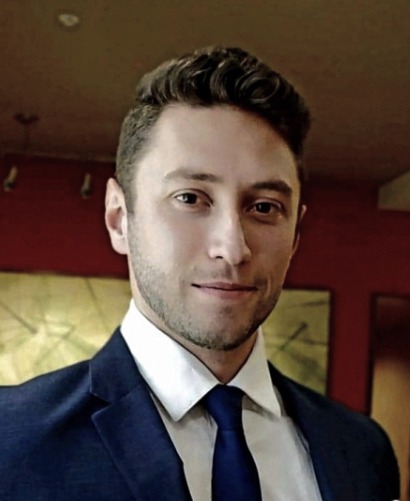 For his thesis "Selective Laser Reaction Sintering of Ultra-High-Temperature Ceramics," and work with the Research and Exploratory Development Department, Peters has also been awarded the JHU Applied Physics Lab Graduate Fellowship. He applied for the fellowship last year and was awarded the fellowship after presenting his research to the APL graduate fellowship committee.
With the final year of his PhD candidacy approaching, Adam is grateful for the networking and presenting opportunities the NSMM Symposium offered, despite its being held online this year. Now, working with the APL, he hopes to do more of the same.
"I think the fellowship provides a unique opportunity to work with experts in the field," says Peters.
After all of this, Adam hopes to have good news surrounding his patent and his plans to launch a start-up with the help of the JHU Fast Forward iCorps program.
Join us in congratulating Adam for these accomplishments and stay tuned for updates right here on the DMSE website, or on our Twitter @JHUMaterials.