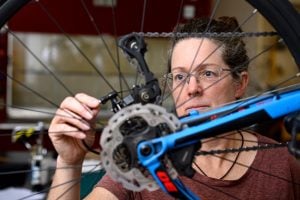 So much has changed about the Olympic Games since the first modern iteration was held in 1896. For instance, today's Games include sports like skateboarding and surfing, and 2021 will be the first gender-equal and most diverse in history.
But you don't hear about as much about how sports such as Olympic cycling have evolved, especially in terms of the equipment that helps enable athletes' record-breaking performances, according to Orla Wilson, associate teaching professor of materials science and engineering at the Johns Hopkins Whiting School of Engineering.
"The sleek, lightweight bicycle frames used in road races this summer by Team USA are very different from those used a hundred years ago, or even 10 years ago," says Wilson, an avid amateur cyclist who routinely commutes between her Towson home and the university's Homewood campus via her Felt road bike. "It's all due to engineering: materials science, in particular."
The first bicycle races were won aboard steel-framed bikes. Later, lighter frames made from aluminum let cyclists fly faster down country lanes and were more easily carried during triathlon competitions, she says.
"With the new millennium came a new generation of bikes: frames made of carbon fiber, layered resin containing fibers of different materials, all designed and engineered to be as strong, light, and aerodynamic as possible," Wilson explains.
Materials science and engineering is one of the driving forces behind advances in cycling sports technology and is the focus of the final project for Wilson's Materials Science Lab 1 class, offered each fall. As part of that class, she tasks students with designing bicycle frames made from different materials based on what type of cycling their imaginary rider will be doing.
Students in the course begin by looking at the mechanical properties of materials like titanium, steel, and aluminum. They test some of the materials to learn how they respond to manipulation such as the weight of a rider, rough terrain on trails, or potholes on a road.
"They can design any kind of bike they want, based on what they have learned about the mechanical properties of each," said Wilson. "Each type of bike requires different frames and different materials for making them sturdy and able to withstand the sport or activity for which they were designed."
They learn that bikes such as those in the Tour de France or road races that are part of the Olympic Games are light and stiff to enable to the rider to go as fast as possible, and that the more a bike frame "gives" between rider and road, the more energy is taken away from propelling the bike forward.
"This is the essence of materials science and engineering!" Wilson says. "Structure determines properties, but the structure and hence the properties can be changed by processing the material. Depending on the performance requirements, processing may be necessary to change the properties to meet the needs."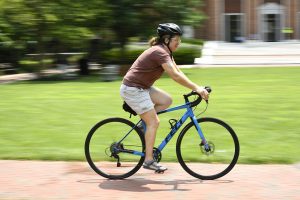 Over the years, students in the course have created designs from mountain bikes to unicycles to stationary bikes.
Wilson inherited the lesson from colleague Tim Weihs, a professor of materials science and engineering who previously taught the class.
"I love cycling, so the course seemed like a perfect fit for me," says Wilson.
Wilson first got into cycling out of necessity, riding her bike to and from class as a high school and college student in Ireland. Since then, she has biked all over the world. She has also participated in the American Diabetes Association's annual Tour de Cure to raise awareness about type 1 diabetes, which she and her daughter both have.
"Every year I secretly hope a byproduct of the lesson will be getting students interested in biking as well," says Wilson, who has won several teaching awards. "But they're never as excited about bikes as I am."
While Wilson may not succeed in getting a student bike club started anytime soon, she hopes her students learn not only which materials make the best bike frames, but that engineering is everywhere—in the lab, out on the road, and even in the summer Olympic Games.
"It's important to have something to keep your body and mind active and if you can find something that's more than ticking the exercise box, something that piques your interest, I think that's great," Wilson says.
This article was written by Amy Weldon and appeared in the July 27th issue of the Hub.