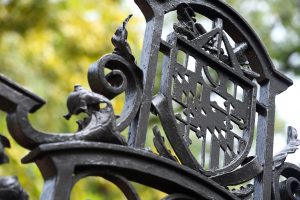 This semester, the Department of Defense awarded second-year Ph.D. candidate, Jenna Krynicki, the National Defense Science and Engineering Graduate (NDSEG) Fellowship. The NDSEG Fellowship is sponsored by the Army, Navy, and Air Force and is awarded to individuals seeking to obtain a doctoral degree in a STEM field, who have exhibited academic excellence in STEM.
Working with Professor Tim Weihs' research group, Krynicki is examining the microstructural evolution of magnesium alloys after thermomechanical processing, for use in lightweight structural and armor applications. She has enjoyed her graduate experience at JHU and especially has loved working with the Weihs Group. The NDSEG Fellowship will allow Krynicki to expand the scope of her current research project, a benefit that she finds incredibly exciting.
"Being selected to receive the NDSEG Fellowship is truly an honor and I am looking forward to diving deeper into my research project," Krynicki said.
Read more about Jenna's work and this prestigious award on the HEMI website. Congratulations, Jenna!