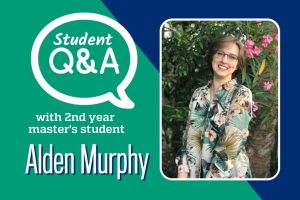 Alden Murphy is a second-year master's student working on developing sustainable bioplastic packaging and mentored by Luo Gu.
What inspired you to pursue engineering as a career path?
I'm from Tybee Island, a small tourist destination on the coast of Georgia where, after major holidays, the crowds of beach-goers would leave the sand covered with cans, bottles, straws, and lots of other trash. I decided that while it may be nearly impossible to keep people from littering, the answer could be to create more biodegradable trash that is safer for the environment and that led me to engineering!
When did you determine materials science and engineering would be the best field to pursue your goals?
I found materials science and engineering when I was looking at graduate school programs. Studying how a material's atomic structure affects its mechanical and physical properties (like biodegradation!) is exactly what I needed to achieve my goals for helping the environment by developing better bioplastics.
What is the official name of your research project and how long have you been working on it?
My project is called "Bioplastics for food packaging" and I've been interested in this topic even in my undergraduate years at the University of Georgia where I was a biology major. I began researching background information on bioplastics in my graduate classes here at JHU anytime I'd have assignments on a topic of my choice.
What's one thing that has surprised you about your results so far?
It's really surprised me how many types of bioplastics have been invented but aren't widely used because of the cost comparison with other less environmentally-friendly materials. There are already bioplastics made of starches, cellulose, fermented corn, and various proteins, including blood plasma! There are a lot of promising ideas that, with some development, could be even cheaper than petrochemical-based plastics, especially if the source material came from an existing waste stream.
What has it been like being an engineering student at JHU and the Department of Materials Science and Engineering?
I have learned a lot in my courses at JHU! The professors are very approachable and willing to help with coursework, research, and school in general. The campus is great and I especially love the nature and trees around campus – I've even seen deer and foxes walking around Homewood campus at night!
What do you hope to accomplish in your career after JHU?
I'd like to work in a lab focusing on innovations in sustainability or waste management. I'm a problem-solver and I like coming up with ideas to improve things. With a little effort, we could make systemic changes that would greatly help our environment, communities, and even mental/physical health.
Do you have any women in STEM heroes or mentors you have looked up to or been inspired by?
I don't remember learning about many female scientists early on but Marie Curie and Rosalind Franklin definitely stood out in history to me. They both made amazing discoveries despite facing a lot of discouragement in their pursuit of science!
Do you have any advice for young women thinking of majoring in STEM or pursuing engineering as a career?
Some people may discourage you along the way whether it's a difficult professor, a grumpy peer, or possibly a family member with good intentions but old-fashioned ideas. You know what you are being called to do. I highly recommend getting internships and lab experience to explore what options are out there and what feels best for you. With a little hard work and some help from others, you can be successful in any field!