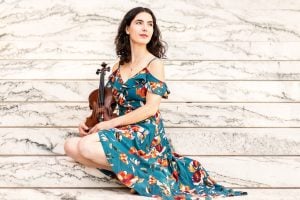 Joanna Clare, a fourth-year materials science and engineering major from Syracuse, New York, can delineate differences in, say, polymers and composites in one breath, and in the next spout off the nuances of jigs, slip jigs, and reels—types of Irish tunes she plays on her fiddle.
Though her worlds seem opposite, Clare sees similarities between the two and plans to pursue both after she graduates, as she's done for the last four years of college.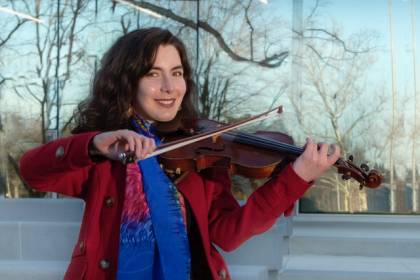 In February, she released a debut album, To Keep the Candle Burning, featuring traditional and newly composed tunes inspired by Irish musicians who have influenced her, from the legendary fiddler Eugene O'Donnell to the acclaimed folk band The Chieftains. Clare plays on the album with seven musicians from Baltimore, plus her long-time fiddle teacher, Brian Conway, from New York.
Her process creating the album resembles her process in engineering. "I especially enjoy the design part of engineering, which starts with a problem and a set of requirements and evolves into brainstorming to diagnose the issue and the iterative nature of designing something that can work," Clare explains.
All parts of the process involved layers of problem-solving. In Irish music, a single track is not a single tune. "A track can include one to four tunes," Clare says, "and musicians typically incorporate tunes with key signatures that harmonically tie them together." Irish music involves improvisation and is often passed down by ear. "Like a game of 'Telephone,' Irish music can change over time," Clare explains. "Once you have the rudiments of a tune down, you can do variations on variations and add ornamentations."
This means Clare and her fellow fiddlers, much like engineers, had to make split-second decisions on what to embellish, and when, while engaging in a collaborative trial-and-error process to capture a unique sound. For this, Clare says she pulls from her training in the Suzuki method of classical violin, which taught her to play by ear and helps her perform the highly ornamented Sligo style of Irish music—named after the county town of Sligo, on Ireland's northwestern coast. "Some Irish music sounds soothing in a way that is almost straight," Clare says, "but the Sligo style has lift and swing and tends to accentuate the first and third beats."
As Clare nears graduation, she plans to keep playing and performing music, while applying for jobs with materials and biotech companies. "I like that I have these two outlets," she says. "If I can be creative, I'll be happy."
This article was published in the JHU Hub on 3/16/2022